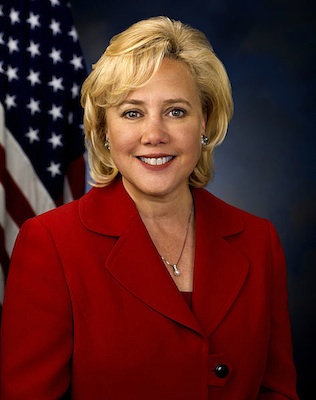 As the clocked ticked down to midnight Monday, Louisiana Senator
Mary Landrieu came out swinging on behalf of DC. During her allotted time on the Senate floor, she
pleaded to make DC exempt from the federal shutdown that would begin with the toll
of 12 o'clock. "For heaven's sakes, this is a big city, it's an important city, it's
the capital of the nation," she said. "They should be able to operate."
Landrieu's spokesman provided no reason why the senator shouldered the city's woes,
except to note that she has a residence here as well as in New Orleans. Suffice it
to say it's not a routine event to have an elected member of Congress speak up so
publicly for DC.
Landrieu included in her blast a big shout-out to Mayor
Vincent Gray, who has vowed he would have to be taken away in handcuffs before he would shut down
the local government during the federal closure. The DC Council planned to vote to
approve use of a special $144 million reserve fund, circumventing the need for congressional
approval. Citing Gray's recent reminder that the city has balanced its budget for
nearly two decades, Landrieu said, "I want to give him credit."
Here is an excerpt of Landrieu's remarks:
"If we can give them some relief I think it would be very helpful to the thousands
of people that really need a signal from us that just because we can't get our budget
straight, just because our budget is in deficit, doesn't mean we can't honor the fact
the DC Budget is in surplus, a billion dollars in the bank. It has been balanced for
18 years, and 75 percent of their budget comes from their own taxpayers. We should
allow them to use their money to stay open.
"This shutdown—I hope we avoid it. It doesn't look like we're going to. It could be
a day, it could be two days, it could be three weeks, it could be four months. Who
knows how long it's going to be? I hope that it doesn't happen, and I hope it's a
very short period of time. But whatever it is, there is no reason in the world for
the District of Columbia, as Mayor Gray said—and this is his statement, and I want
to give him credit—he said, 'We've balanced our budget for 18 consecutive years. We
have well over a billion in the bank, yet we cannot spend our own money to provide
our residents with services they've paid for unless we get permission from a Congress
that can't even agree to pay its own bills.'
"If we can't agree how to pay our bills—I think that's unfortunate; we should—but
for heaven's sakes, this is a big city, it's an important city, it's the capital of
the nation. They should be able to operate tomorrow morning. I'm hoping in these wee
hours we can find a way, all it takes it unanimous consent, and I know tensions are
running high. We can be angry at each other, frustrated, but we should not be angry
with the District. They've done nothing wrong, they have balanced their budget, they
need to be able to operate. Many people in the nation, all over the nation, depend
on the District government. So let's not shut them down while we're shutting ourselves
down."
This post has been updated from a previous version.