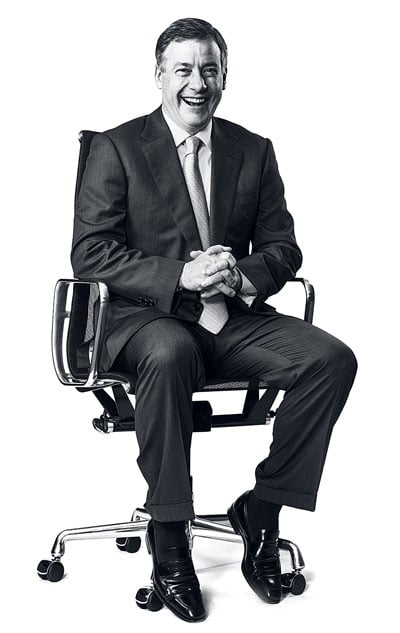 Andy Florance stands in front of a floor-to-ceiling video
screen that shows a satellite map of the Washington area. Every few
seconds, blue, green, and red arrows pop up and then disappear, creating a
ripple effect of colors all over the region.
"Each arrow means that one of our clients is looking at a
building right now in that spot," Florance says. "It's constant. They look
up 3 billion buildings a year."
Florance is founder and CEO of CoStar Group, one of the world's
largest providers of commercial-real-estate data. The screen takes over
the back wall of the two-story lobby in the company's "green" building in
downtown DC, which is filled with state-of-the-art computers and
contemporary furniture.
The story behind how Florance bought the office has become
real-estate legend. In February 2010, when the office market in Washington
was scraping bottom, CoStar purchased the 168,000-square-foot building
from the Mortgage Bankers Association for $41.3 million—less than half
what the MBA had paid for it in 2008. A year later, Florance sold and
leased back the building to a German real-estate holding company for $101
million, turning a $60-million profit.
As any real-estate investor knows, nailing the bottom of a
bubble is very hard to do. But if anyone in Washington has the knowledge
and wherewithal to pull off a flip like that, it's Florance. The
50-year-old executive came up with the idea for CoStar as a college
student, and over the last 25 years he has developed it into a company
with $350 million in revenue and 2,000 employees in North America and
Europe.
At a time when the District is pushing to become an incubator
for tech firms and entrepreneurship, CoStar is an example of both. But
unlike companies such as LivingSocial and AOL, you've probably never heard
of CoStar—unless you work in commercial real estate, where its research
has changed the way brokers do business.
• • •
Florance got the idea for CoStar when he was at Princeton in
the 1980s. The son of Coke Florance, one of Washington's best-known
architects (his projects include DC's Verizon Center and the Torpedo
Factory in Alexandria), Andy Florance loved real estate and architecture.
He loved numbers and was fascinated by computers: "I was on the student
computing committee, and I think I bought the first four PCs for
Princeton."
An economics major, Florance was studying financial markets and
getting a feel for how companies used data to analyze their assets. He was
shocked by how primitive and opaque the numbers were for commercial real
estate. "I could see what Treasury was doing this morning versus this
afternoon, I could see what a stock index was doing right now versus six
seconds ago," he says, "but there was just nothing for real estate. You've
got $30 trillion of commercial real estate in the world—it's four or five
times larger than the value of all the securities on Nasdaq—and it was all
manual."
Florance's idea? Make the commercial real-estate market more
transparent. Find out the vacancy rates and rents for specific buildings
and give that information to developers so they can more accurately
estimate what their buildings are worth.
While in college, Florance started writing software for
developers. In 1986, he launched Infonet, his first com-pany, and ran it
from his parents' basement in DC's Cleveland Park. There was no
centralized data on commercial buildings then—real-estate brokers compiled
their own information, an expensive and time-consuming process, and many
employed research staff. With Infonet, Florance set out to create a
database brok-ers could subscribe to—it would allow them to pare down
their researchers and get more up-to-date, comprehensive data for less
money.
His first step was to get all the tax records for commercial
buildings from the District government, which he then had to feed into a
computer program he designed. "I worked like a freak to get this massive
amount of data down to a PC," he says.
When he finally got the data into a program that brokers could
use, he started making sales calls. But few brokerages had computers, so
in addition to subscribing to his service, they'd have to buy a computer,
which was still very expensive. They all said no. So Florance began
publishing Cornerstone, a phone-book-size monthly leasing guide
filled with the data he'd unearthed.
Although Cornerstone was successful, Florance never
intended to be in the publishing business, and he wasn't for long. After
three years, he sold Cornerstone and used the proceeds to expand
his newest venture, Realty Information Group, which became
CoStar.
Florance's earliest investor was local attorney Michael Klein.
As a lawyer at WilmerHale, Klein specialized in public securities during
the savings-and-loan crisis. Like Florance, he was shocked to see how
little data there was on commercial real estate, a situation that led
banks to make very risky commercial loans. "I came away from that
experience with the conviction that if there was more information
available on commercial real estate, the problem could be resolved," Klein
says.
So when he saw the software Florance was peddling, Klein
grasped the potential. Even though Florance was only 23, the lawyer was
impressed by his talent and creativity. And for Florance, having an
established backer like Klein gave him the stamp of credibility he needed
to be taken seriously. The two forged a partnership that continues
today—Klein is chairman of CoStar's board.
• • •
Pia Mianulli pulls out of the parking garage under CoStar's
office building and onto L Street, Northwest. As she drives down the
street, the laptop above her center console shows the footprint of every
building she passes. One click and she can see who owns it, what its
vacancy rate is, who the tenants are, how expensive and long their leases
are, photos of the building from several angles, even the
landscaping.
Plastered with CoStar's yellow-and-black logo, this Toyota
Prius is Mianulli's office, where she spends eight hours a day canvassing
DC and Northern Virginia. She's not the only one—there are two cars in
Philadelphia, three in New York City, two in Dallas, four in Los Angeles.
All told, CoStar employs 148 field researchers who track buildings all
over the US, Canada, France, and the UK.
CoStar has a fleet of 137 cars that canvass streets all over the US, Canada, France, and the UK.
If Mianulli sees a "for lease" sign, she double-checks to see
if that information is in the system. If it's not, she collects the data
and logs it in for the portfolio researcher covering that part of the
country.
Mianulli's research might land on the seventh floor of CoStar's
Washington headquarters, a sea of cubicles filled with young researchers.
In addition to following up on leads gleaned from the CoStar fleet of
cars, they hear from brokers wanting to market their listings, dig through
public records, and make numerous cold calls a day to get information from
building owners. Customized web robots—software programs that run
automated tasks over the internet—also help keep track of changes in their
territory. For example, a web robot may go to the 7-Eleven website and
plug in each Zip code in the country every two weeks—if a new store has
opened in a researcher's assigned area, he'll get an e-mail letting him
know.
CoStar's subscribers—there are more than 100,000—pay for access
to this cache of data. "This one floor of researchers is bigger than the
largest internal research program in any commercial real-estate firm in
the world," Florance says. "And we have 50 of these floors."
Is he covering the whole country or just cities? "Every square
inch," he says. "Anything that moves."
• • •
Despite the gray hair sprouting around his temples, Florance
exudes youthful energy. "Do you mind if we take the stairs?" he asks
during a tour of CoStar's headquarters, his foot already halfway through
the door to the stairwell.
He talks fast and peppers the conversation with jokes and
anecdotes. Mike Glosserman, managing partner of the JBG Companies and a
member of CoStar's board, says of Florance: "He is whip-smart. He is
extremely personable and has a wonderful manner. He has a terrific sense
of humor, is extraordinarily competitive, and very, very
focused."
Over the years, the company has faced pushback from the
industry, which has fought to keep its leasing data private. "If everyone
makes shoes by hand and one day you make a machine that sews the soles on,
you end up with people with stones and torches at the front door,"
Florance says.
If you search for articles about the company, you can see a
tenacious businessman. In a 1993 Washington Post article about a
lawsuit with another real-estate firm, Stout and Teague, Florance said,
"We sued the pants off them and we won. A visible brokerage firm was
caught with its drawers down."
"I've got two floors of people in Washington working on stuff that won't see the light of day for two or three years."
In addition to spending money on fighting competitors, CoStar
has invest-ed considerably in new markets, technology, and innovation. The
company has about 250 software developers, many with PhDs in finance or
math. "I've got two floors of people in Washington who are working on
stuff that won't see the light of day for two or three years," Florance
says.
Right now, CoStar field researchers are canvassing the streets
of Toronto. They'll spend several years there building up the database
before CoStar makes a dime on the effort. When a city already has a
real-estate research company doing something similar to CoStar, Florance
sets out to acquire it—in the past 25 years, CoStar has bought 20
companies. In April 2012, it finalized its biggest acquisition, San
Francisco's LoopNet, a leader in marketing commercial real estate on the
internet, which it bought for $860 million.
"CoStar is now more than a $3-billion corporation in terms of
market capitalization," says John Hill, former head of DC's Federal City
Council and a recent addition to Florance's board, "but he's never
comfortable."
• • •
As CoStar has expanded into new markets, its CEO has been
forced onto the road—last year Florance spent just 20 business days in
Washington.
"I love the people I meet," he says. "But I hate the travel
with a passion."
That problem isn't going away soon—Florance describes CoStar as
a naturally global business and expects to have 5,000 to 10,000 employees
in the next ten years.
"The problems China has with understanding commercial real
estate are the same as the ones we have in Washing-ton," he says. "China
has all these vacant buildings being built in the wrong place—that's a
lack of information and transparency."
The more exciting frontier for Florance, however, is new
technology. He says the next step is not only to provide data but to use
it to predict how much a building will sell for at any given time. Because
appraising commercial real estate is complicated—you have to take into
account such factors as your income stream from the building, when your
leases roll, whether they'll roll into a good or bad market—human
appraisals are often off by as much as 25 percent.
Says Florance: "If you can actually take a portfolio of a
hundred buildings and understand, plus or minus 5 percent, what they're
worth today versus yesterday, that allows you to make decisions people
couldn't have dreamed of before."
He also plans to replace the company's fleet of hybrid cars
with all-electric Teslas—he drives one himself and has been letting his
software developers experiment with it. He hopes to build a version of
CoStar's iPad application that brokers can use directly on a Tesla
computer screen.
"The whole time, we've been waiting for the technology to catch
up to what we want to do," Florance says. "We've been creating technology
now for 25 years. We've innovated all these different areas, but there's
still so much more ahead."
This article appears in the October 2013 issue of The Washingtonian.