Annapolis is a 350-year-old seaport at the edge of the Chesapeake Bay. It may have more 18th-century homes than any other city in the nation; domes, spires, and cupolas pierce the skyline. But it stays young, and it's made for walking.
Lately it's been attracting an international crowd who've made it a favorite port for their oceangoing yachts—reflected by the new Irish pubs, pan-Asian restaurants, and interesting shops.
While it's hard to see everything in one day, there are a few sights and places we locals never tire of.
First, you'll need to park your car. Instead of feeding two-hour meters or risking a ticket in restricted residential areas, park in the Hillman garage off Main Street, one long block from the water—$20 for 24 hours, and free parking from 6AM to 1PM on Sundays.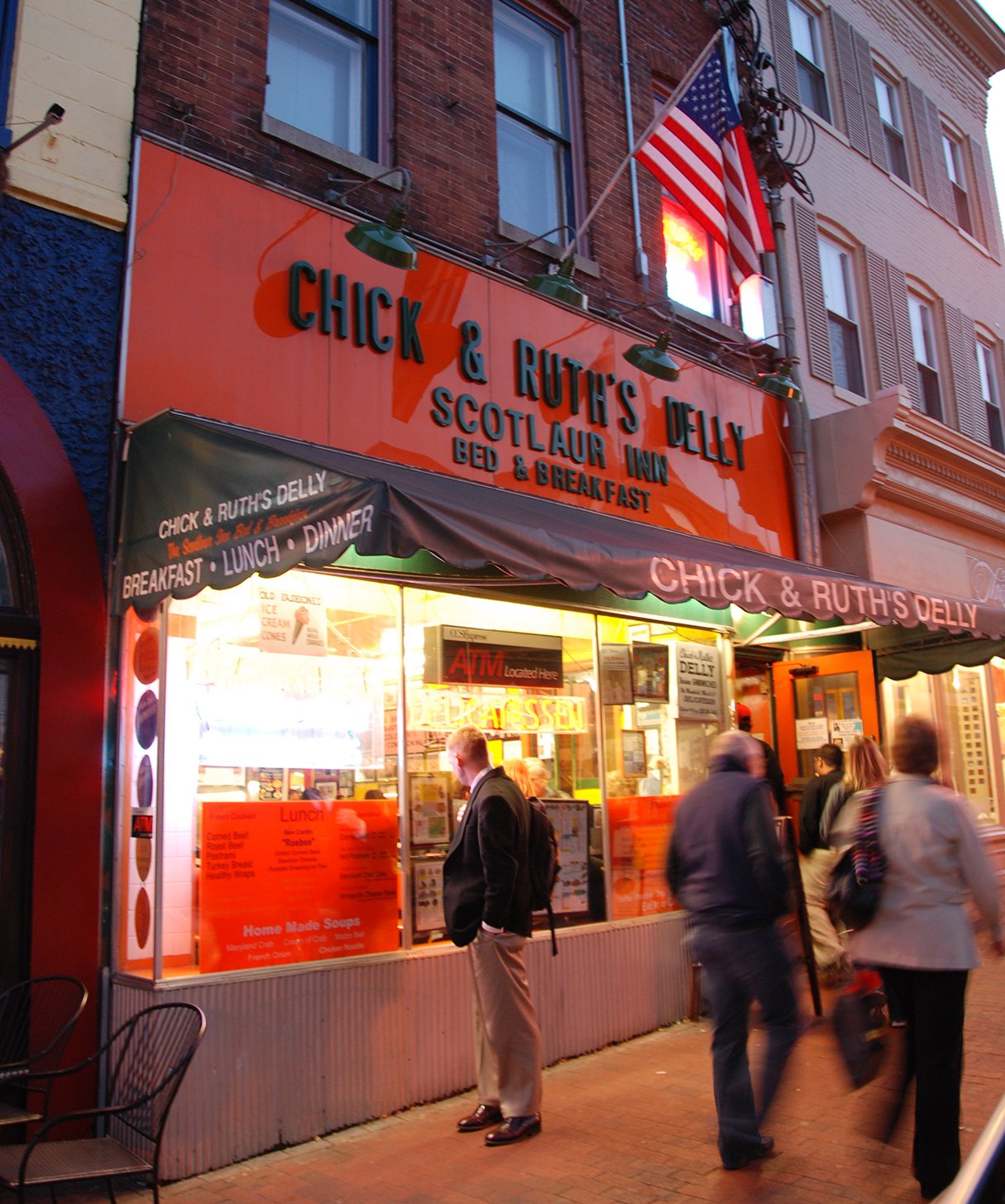 Then head toward the water. On the way, you can grab a coffee and snack from Hard Bean Coffee & Booksellers (36 Market Space), owned by a former Crown Books manager. If you love heartier fare, try the quirky, diner-like Chick & Ruth's Delly (165 Main St.).
Next, promenade along the City Dock (known as Ego Alley) and watch boaters show off their expensive toys. You'll see a life-size statue of Alex Haley, part of a memorial commemorating Kunta Kinte's arrival in Annapolis from Africa on a slave ship in 1767. Don't miss the Story Wall, ten plaques displaying inspirational quotes from Roots, Haley's Pulitzer Prize-winning book about Kinte and his ancestors.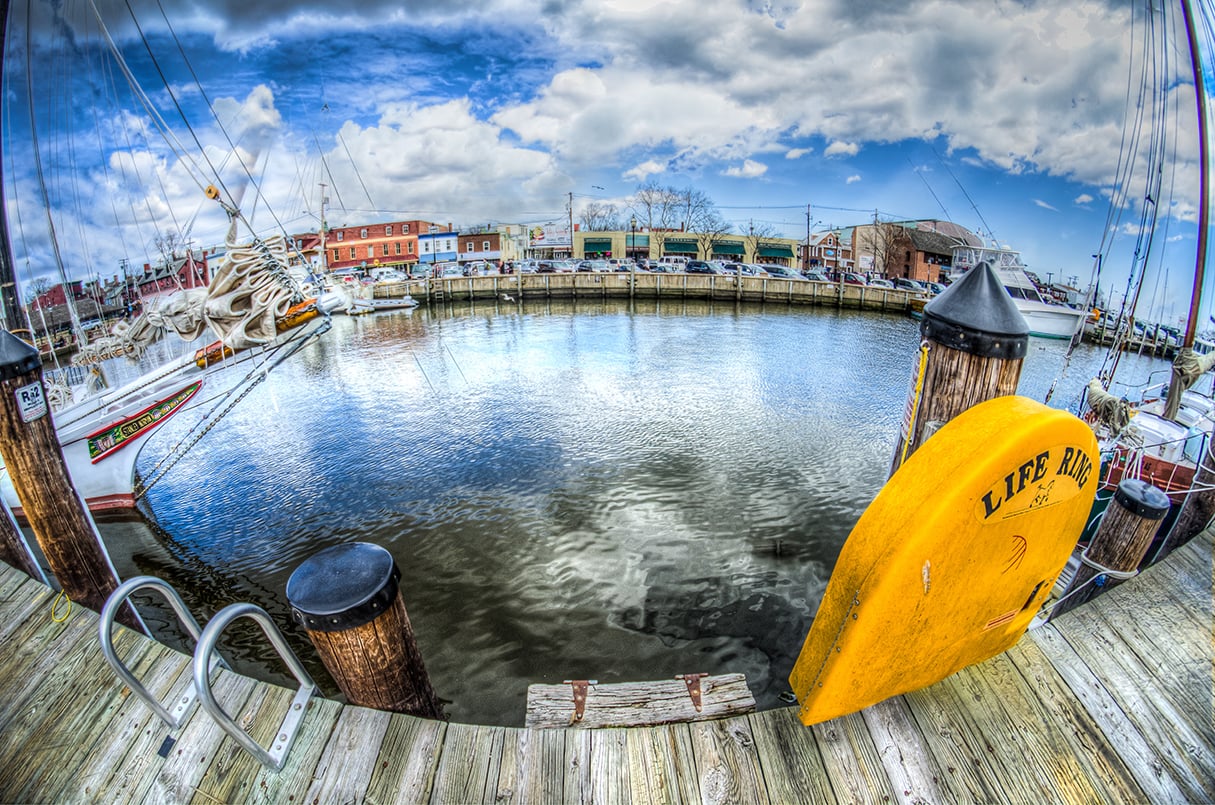 At the visitors center booth next to the harbormaster, you can pick up a map of town. If you head up Compromise Street to the Annapolis Marriott Waterfront hotel lobby, you can view archival photos of Annapolis and impressive models of the USS Yorktown aircraft carrier and the USS Constellation. It's a not-to-be-missed collection most visitors do miss. From here you're steps from the Historic Annapolis Foundation Museum Store (77 Main St.), where you can rent a one-hour Historic Annapolis Tour, a do-it-yourself audio tour narrated by Walter Cronkite.
The museum store is across from market space, the heart of town. From there, walk up Pinkney Street, no wider than a car. Pass the Shiplap House, built in 1715 and one of the city's oldest, before checking out East and Fleet streets, where free blacks lived prior to the Emancipation. Before the Civil War, Maryland had more free African-Americans than any other state.
Head up Cornhill and cruise around State Circle. Pop into Maryland's State House, the oldest US capitol in continuous use.
Back out on the circle, you can admire local talent at the Maryland Federation of Art Circle Gallery (18 State Cir.) and Annapolis Pottery (40 State Cir.). Off State Circle, Maryland Avenue is home to snazzy new shops, from Isabella's Fine Lingerie (62 Maryland Ave.) to Paws pet boutique (54 Maryland Ave.).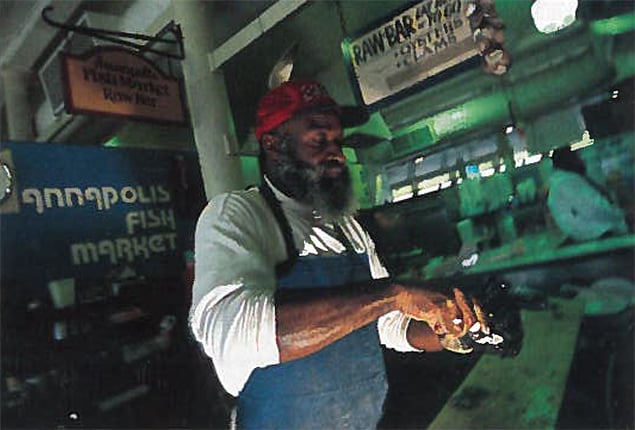 When hunger strikes, try Galway Bay (61-63 Maryland Ave.; 410-263-8333) for good salads and Irish pub fare. Can't stand the thought of being indoors? Back at the waterfront, you can get a sandwich or some bread and cheese from the Market House and picnic along the water. Or get an outdoor table at Middleton Tavern (2 Market Space; 410-263-3323) and enjoy a few oyster shooters as Diane Sawyer did when Good Morning America stopped by last year.
Bring photo id for a swing through the Naval Academy or, because of security measures, the closest you'll get is the front gate. You can take an organized tours for adults and kids.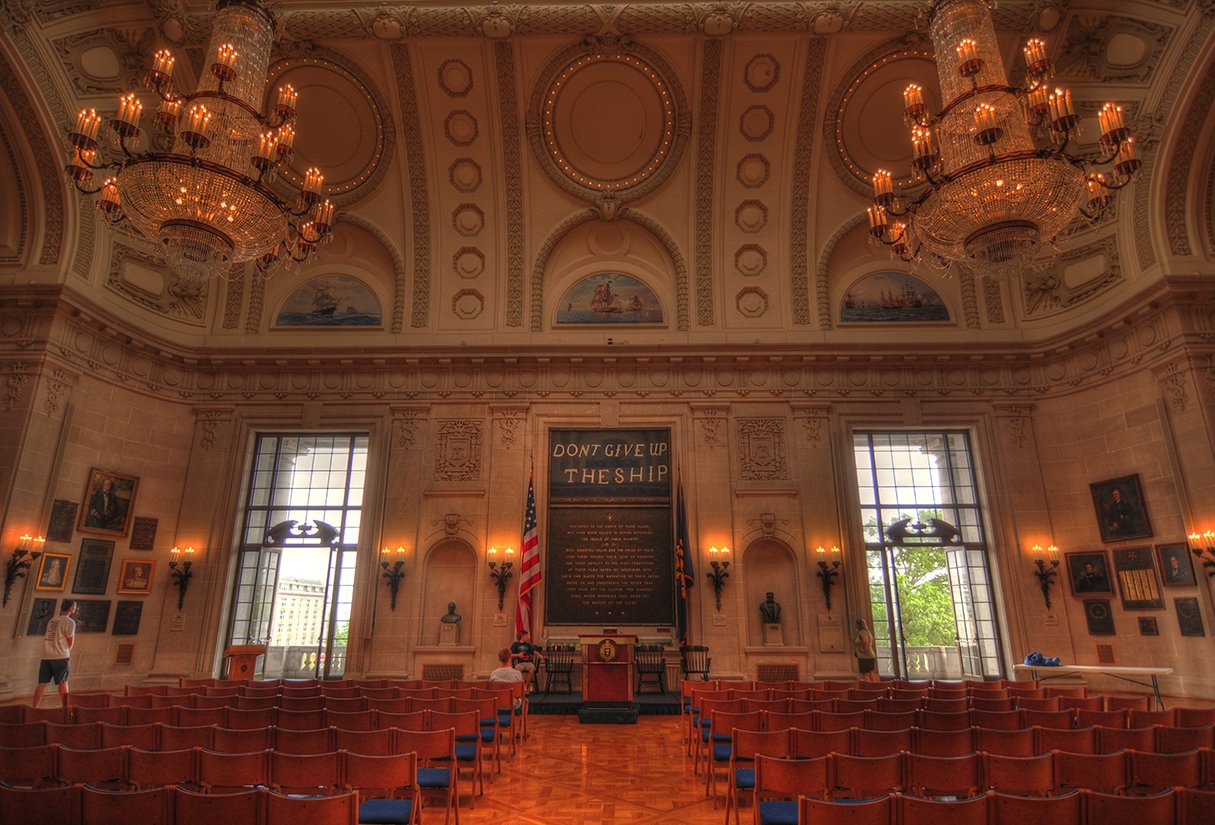 Walk along the expansive seawall where the Severn River meets the bay; the grounds are dotted with submarines and torpedoes. Wind your way inland to the massive Chapel for a glimpse of magnificent Tiffany windows before heading downstairs to the crypt of John Paul Jones, Revolutionary War hero.
Many tourists visit the academy's Preble Hall Museum—and see the table the Japanese used to sign the surrender documents ending World War II—but overlook the Gallery of Ships. One floor below, this gem houses one of the world's finest collections of warship models.
For a midafternoon break, try a dreamy scoop of gelato at Aromi D'Italia (8 Dock St.) or a cup of tea at Reynolds Tavern (7 Church Cir.), a historic building that's been transformed by a delightful English couple. The happening Sly Fox Pub occupies the downstairs and the patio, while upstairs, a B&B and tearoom are filled with antiques.
To top off a trip to Annapolis, get an age-old perspective from the water. The Miss Anne, a 26-foot boat with a canopy top and open sides, is a good choice. Captain Ross Cusimano may let your youngster take the wheel as he gives his 40-minute spiel. The larger Harbor Queen offers twice as many 40-minute cruises per day. Or take a two-hour sail aboard the 74-foot schooner Woodwind. All are accessible from the City Dock.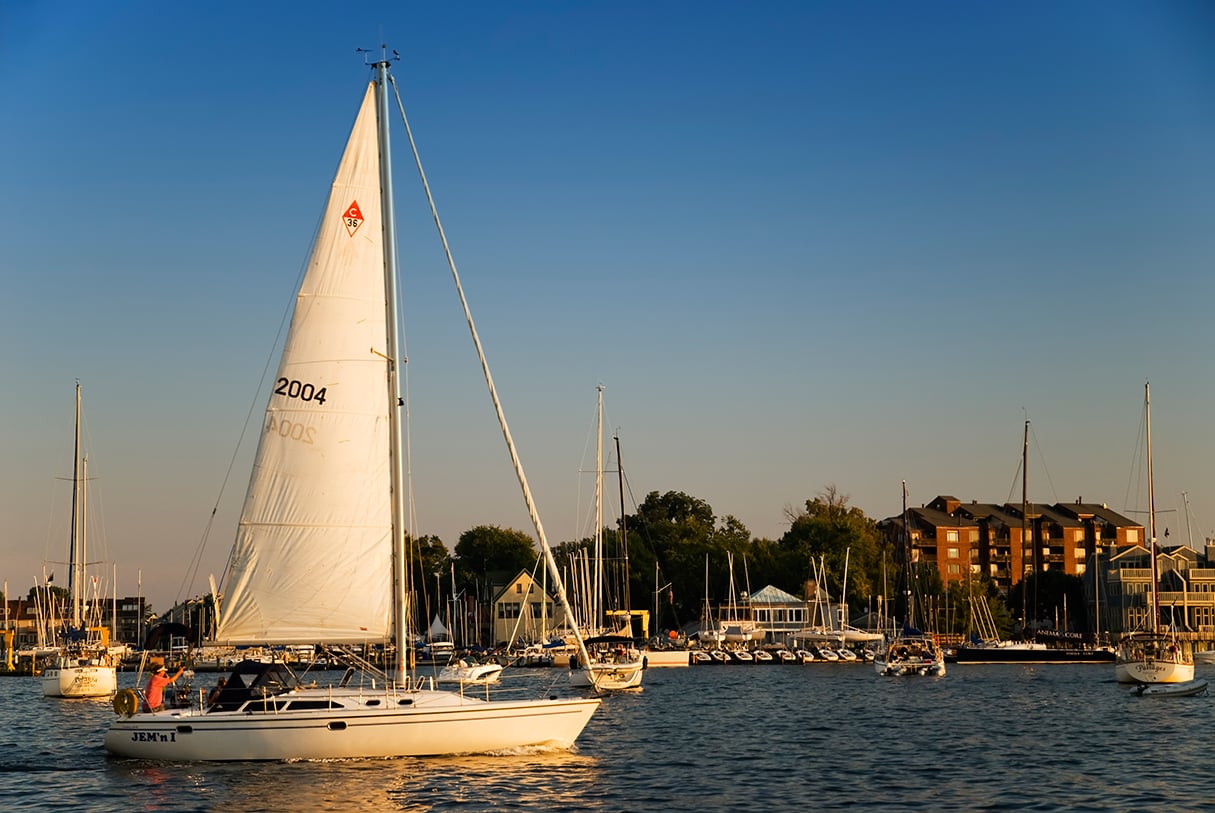 When the sun sets, quench your thirst at McGarvey's Saloon (8 Market Space; 410-263-5700), a favorite watering hole and eatery of everyone from old salts in cutoffs to lobbyists in Armani. Mounds of mussels and the juicy burgers are the best bets. Sushi fans flock to Joss Cafe & Sushi Bar (195 Main St.; 410-263-4688) and Tsunami (51 West St.; 410 990-9868), which also has innovative pan-Asian cuisine. Italian afficionados are raving about a newcomer, Lotsa Pasta (36 West St.; 410-267-9950), but loyal followers of Maria's (12 Market Space; 410-268-2112) prefer the upstairs window tables to watch the harbor action below.
Many locals think the best dining is in Eastport, a funky neighborhood with working shipyards on the other side of Spa Creek. (It's a healthy walk from the City Dock, so you might take a water taxi or drive.) There's always been rivalry between the two neighborhoods, but seafood connoisseurs from both sides of the creek slip into O'Learys (310 Third St.; 410-263-0884) for very good seafood in a setting where you can talk over dinner.
A sailor hangout is the convivial Boatyard Bar & Grill (Fourth St. and Severn Ave.; 410-216-6206), which marries sailing memorabilia with casual food. Crab lovers head for Maritime Café at McNasby's (723 Second St.; 410-295-9022). Once a seafood store, it is now a casual takeout. Order crabs or crabcakes inside and dine outdoors on the dock.
At day's end you can head back to the historic district where the beat goes on at Rams Head Tavern (33 West St.; 410-268-4545). Live performances combine great music and martinis.
Tours to Go On
For maps and brochures, contact Annapolis & Anne Arundel County Conference & Visitors Bureau, (410-280-0445).
Water tours: Watermark Cruises, (410-268-7601). Adults $15-$75. Reservations required.
Schooner Woodwind, (410-263-7837). Two-hour cruise on a 48-passenger, 74-foot wooden schooner. Adults $41-$44. Specialty cruises include beer tastings or a close-up look at the Wednesday-night Annapolis Yacht Club sailboat races.
Recommended Hotels
All rates are per couple on a spring weekend.
Wonderful water view: Annapolis Marriott Waterfront, (800-336-0072).
Most opulent B&B: Annapolis Inn, (410-295-5200).
What's new: O'Callaghan Hotel, (410-263-7700, 866-782-9624 [toll-free]).
Bright, well-appointed rooms in Eastport: Inn at Horn Point, (410-268-1126).
Close-ups of the Capitol: State House Inn, (410-990-0024).
Impressive Asian art: 55 East Bed & Breakfast, (410-295-0202).
Near the Naval Academy: Flag House Inn, (800-437-4825).
English country-style home with pretty gardens and two friendly dogs: Two-o-One, (410-268-8053).
Filled with English antiques: Reynolds Tavern, (410-295-9555).
It's a sailboat: Eight guests share double-berth staterooms and two baths on Boat & Breakfast schooner Woodwind, (410-263-8619).
Mary Ann Treger is a writer who lives in the historic district of Annapolis.
This article appears in our April 2003 issue of Washingtonian.