The last five years may have been all about pig worship—what with the endless stream of pork-belly BLTs, bacon lollipops, and roasted suckling pigs—but chef Victor Albisu is throwing the spotlight back on the cow. Six months ago, he opened the high-gloss Latin American steakhouse Del Campo in DC's Penn Quarter, where he began serving up communal platters of fabulous rib eyes and Wagyu skirt steaks—at expense-account prices. Now he's opened a second meat-centric place, the more wallet-friendly Taco Bamba in Falls Church.
The narrow carryout, a few doors from his mother's grocery store, has some hallmarks of real-deal Mexican-expat taquerias—strip-mall setting, tongue and tripe on the menu, tall glass bottles of Coke. Still, Albisu puts a cheffy stamp on things. How many taco shops have you been to that have a sous chef (Faiz Ally)? Or brightly flavored guacamole ($3) made with grilled avocados? Or the options of sweetbreads and bone marrow?
The corn tortillas didn't blow us away—they're of the papery, packaged variety—but a few of the specialty tacos did. There's the excellent Bamba Ball ($4), with bite-size, chili-and-tomato-braised meatballs, that grilled guac, and crumbles of salty cotija cheese. The El Beso ($4) showcases crispy-fried bits of pork and beef tongue with Sriracha-laced aïoli and grilled scallions. Less appealing: a portobello taco ($4) that was overpowered by chipotles. A standout version of elote ($3)—a big, mayo-slathered cob of corn—should be more pleasing to vegetarians.
Albisu's attention to the little things helps elevate those creative tacos. The other, "traditional" side of the menu is a more straightforward lineup of meats, and you'll want to grab lots of tomatillo salsa and lime to spruce them up, especially the shredded beef and chorizo ($3 each), which can tend toward the dry side.
But as it turns out, the best things at Taco Bamba aren't tacos at all. They're sopes ($4.50), which ditch the tortillas in favor of crunchy, deep-fried masa flatbread and add a verdant pile-up of extras: shredded lettuce, earthy puréed beans, tomatillo sauce, cactus salsa, jalapeños, and cilantro. They can be had with any of the meats, such as the wonderful slow-roasted marinated pork or the seared beef.
Pig, beef—it doesn't matter. When it's heaped on a sope, we'll take it all.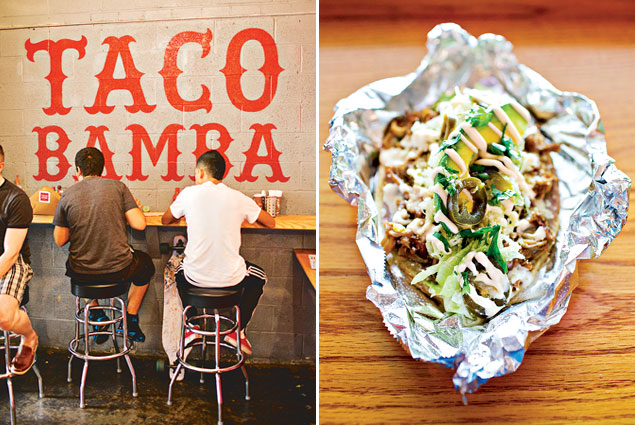 This article appears in the October 2013 issue of Washingtonian.
---