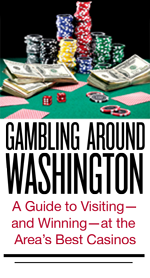 Berlin, Maryland; 410-641-0600
Distance from DC: 143 miles
Best reasons to go: Five miles from Ocean City, this casino is at one of Maryland's most venerable harness tracks, Ocean Downs. With the exception of Rosecroft Raceway in Prince George's County, it's the only place left to see live harness racing—in a state once famous for it. It's also the only Maryland casino to allow wagering on horses; through simulcasting, patrons can bet on races all over the US and Canada.
Other bets: At more than 34,000 square feet, the casino is half the size of the one at Perryville and currently doesn't offer any table games. It has generally the same electronic games you can find at Maryland Live and Hollywood Casino—though on a recent visit, the electronic craps game seemed anemic. Ocean Downs does have up-to-date slots, including the popular new CSI machine.
This article appears in the October 2013 issue of The Washingtonian.