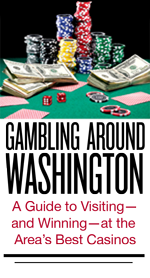 Perryville, Maryland; 800-795-7001
Distance from DC: 79 miles
Best reasons to go: Compared with Maryland Live, Hollywood Casino in Perryville is a bit bare-bones. The casino advertises itself as the first in Maryland to have table games and has a 75,000-square-foot gaming floor, but besides seven blackjack tables, there's just one for craps.
Other bets: The drab, brownish interior seems out of touch with the Hollywood theme. There's a decent selection of slots as well as electronic games for craps, roulette, and blackjack. The poker room has ten tables, usually filled on weekends. A nice touch: The casino takes call-ins, and the bad-beat jackpot, which offers a large prize if your four-of-a-kind is beaten by a straight flush or a higher four-of-a-kind, exceeded $70,000 this summer.
This article appears in the October 2013 issue of The Washingtonian.