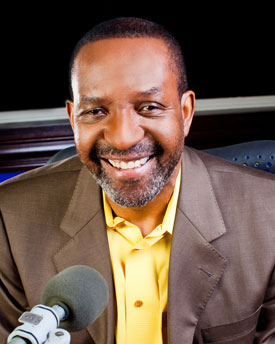 This year Kojo Nnamdi marks a milestone—15 years of hosting his daily radio broadcast on WAMU-FM—and he says what those 15 years mean to him is that "the listening public latched onto something most mainstream media today are not interested in, and that's a long-form interview." It is his specialty, even though he'll tell you he takes great pleasure in changing gears from subject to subject, a sign of his own restless mind and vast assortment of interests and curiosities.
Nnamdi is as Washington as it gets, in part because, like so many other people who put down roots here, he's from someplace else. He was born Rex Orville Montague Paul in Guyana in January 1945. He left Guyana to go to college at McGill University in Montreal, moved from there to Brooklyn, and arrived in Washington in 1969. He became the host of The Kojo Nnamdi Show in 1998, replacing Derek McGinty.
Nnamdi celebrated the anniversary of his show with a party at the Carnegie Library and by doing something that's becoming a trend among Washingtonians: announcing on his show on Thursday that owner Dan Snyder should change the name of his football team. "I, like a lot of fans, have evolved from something we didn't think about a lot to 'no,'" he said.
We connected with Nnamdi for a wide-ranging conversation in which we got to turn the tables on him and do all the asking.
The promotional material for your show says it's about news, politics, and cultural issues. Is one more of a favorite subject than another?
Politics would be number one. Even though I enjoy discussing all the other issues that we do, where my natural instincts are, for my own reading and listening pleasure, is politics. Living in Washington it's difficult to avoid politics. It's part of the air we breathe.
What about sports? When we first met, at a dinner party, your job was to watch a football game and report back to the chefs making the meal.
I love sports. I love going to sporting events generally—it's one of the most relaxing things you can do. Basketball is my favorite. I am really passionate about it. I have season tickets to [American University] games. I watch football. I watch some baseball, when it gets closer to the World Series. I go to see cricket in the Caribbean, because I played the sport. I usually go to Antigua in February. I also grew up playing soccer. This past year I got season tickets to DC United, and it was their worst year ever.
What's your workday?
I get in at 9 in the morning. Between 9 and noon we have brief meetings to solidify what we're doing for the day. From 9:30 to noon I am cloistered in my office going over material for the show and writing. We do the show from noon to 2. I almost never go anyplace for lunch. In the afternoon there are more meetings, which finally finish around 4:30. That's when I start going over my e-mail, returning phone calls, doing stuff for the next day. I am out of here around 7.
You've been here since 1969. How would you describe DC then versus DC now?
It's night and day. I didn't have the privilege of knowing DC before the riots of 1968. When I arrived, the area where I lived—Chapin Street, just off of 14th Street—was devastated. There was nothing going on except people apparently selling drugs. I had been living the previous year in Brooklyn, working on Wall Street. I didn't feel I could exist here.
I used to go back to New York every weekend, then once a month. Over the years I realized, in retrospect, that as [DC] began to flourish the more I stayed here. While I always loved living in the city today there's so much more to love living in the city for. Now I go to New York once a year for the US Open.
What stands out from that span of time?
In the late 1980s there was certainly a change in the political environment. There were a lot more African-Americans in positions of higher office and doing business with the city. In the 1990s you could notice the return of a downtown, which many of us had given up on. Along came Metro, along came the Verizon Center. All of a sudden, it was revitalized. Studio Theatre and others began to revitalize 14th Street. By the 2000s you could see a transformed city.
There was a journey from being Rex Orville Montague Paul of Guyana to becoming Kojo Nnamdi of Washington. Did the name change also change you?
The name change was reflective of a change in me. One of the reasons I came here in 1969 was to pursue an activist identity. I got attracted to the Black Power Movement when I was at McGill. After a brief spell in New York with the Black Panther Party I came here and fell in with SNCC [Student Nonviolent Coordinating Committee] activists who were pursuing their own African-American ideology.
I became the editor of a radio show [Sauti on WOL] in 1970. I decided to have an alternative identity. I called myself Brother Uwezo. In 1971, when my now-deceased wife and I got married, I decided I needed an African Christian name and surname that made more sense. That's how Kojo Nnamdi was born, "kojo" meaning Monday and "Nnamdi" for Nigeria's first president, Nnamdi Azikiwe.
Your show spans two hours and a number of issues. How do you change gears from subject to subject?
It's something I've always done. I've always had a wide variety of interests, and I've always been easily bored. A perfect environment for me is one in which I get to talk about all the things I'm interested in and curious about. Subjects like science and technology, which I don't have a lot of knowledge about, are things I really like doing. I let my curiosity lead me.
Who are the DC characters you most like to watch and talk about and possibly even talk to?
George Pellecanos, the writer, is the first that springs to mind. The second is probably [DC Delegate] Eleanor Holmes Norton, and [restaurateur and chef] José Andrés.
We just had a governor's race in Virginia. Do you expect the winner, Terry McAuliffe, to be a regular subject on your show?
Yes, because nobody expects him to be a particularly good governor.
On the issue of the DC mayoral race, do you have an opinion on whether Vincent Gray will or won't run for reelection?
I do. I think he will run because I think he has to run. If he doesn't, in his mind and in the minds of a lot of people it will be because he expects to be indicted by the US Attorney. It does not appear there will be an indictment before he has to file his petitions. I'm pretty sure he'll run. His entire mayoral tenure was severely marred by how it began, but the past two years have been smooth sailing.
If you made a list of the issues that should be in the forefront of the mayor's race, what would be the top three?
Affordable housing, education, and, always, crime.
How do you rate Cathy Lanier as DC police chief?
Cathy Lanier has been good for the city because of at least two things. Because of her own personal life she has been able to connect with people, especially women facing single parenthood in the poorest parts of the city. That connection has helped her to be effective. Second, she has demonstrated that you don't have to be a man and you don't have to be African-American to be able to run the city's police department or anything else in this city. You just have to understand it.
Would you apply that analysis to the mayor's race? Do you have to be black to run DC?
Nope. Like Lanier you have to be sensitive to not just black people—you have to really be sensitive to the lives and interests of poor and unemployed people.
Where's your family?
My wife and I live here. My sons are married. One lives in Capitol Heights, another lives in Palm Bay, Florida, and the third lives in Atlanta, Georgia.
Where's your neighborhood?
Brightwood, one block down from where Walter Reed used to be. We're looking at major redevelopment.
What are your favorite places in Washington?
The Arboretum is number two, and Rock Creek Park is number one. For all of my 40 or so years in this city I have always jogged, bicycled, walked and spent a great deal of time in Rock Creek Park. I want my ashes sprinkled there.