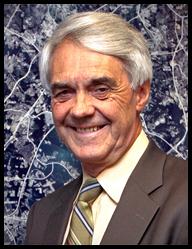 Ron Kirby, the director of transportation planning for the Metropolitan Washington Council of Governments, was shot to death in his Alexandria home Monday, police say.
Kirby, 69, suffered multiple gunshot wounds and was pronounced dead when medics arrived at his home on the 200 block of Elm Street about 12:30 PM, Arlington Police spokeswoman Ashley Hildebrandt says. Kirby's death is being investigated as a homicide.
Hildebrandt says police have found no evidence of forced entry.
Kirby, who was born in Australia, joined the Council of Governments in 1987 and worked on developing the public transit and roadways that help move Washington around. He was profiled in the December 2004 issue of Washingtonian.
"Dr. Kirby, one of the region's leading experts on transportation planning, was a key figure in all aspects of our work on regional planning and collaboration," Chuck Bean, the council's executive director, says in a statement. "His deep knowledge and wise counsel assisted local, state and national officials in reaching consensus on the major transportation issues over the years."
Kirby's death is the fifth homicide recorded in Alexandria in 2013. There were none in 2012.
UPDATE, 1 PM: DC Council Chairman Phil Mendelson, who serves on the Council of Governments' board of directors mourns Kirby in a statement. "I worked with Ron Kirby for more than 14 years," Mendelson says. "He was an expert on transportation and respected by transportation leaders across the nation. Few people understood our transportation problems and needs as well as Ron—he was the go-to guy for transportation."