Though we're still more than a month away from official winter, the cold, windy weather has already moved our workouts indoors.
But as we learned before, it has to be really cold before it's actually dangerous to exercise outdoors. In the meantime, this new cold-weather running gear from Nike, Under Armour, and more has got us covered—literally—from head to toe.
For women . . .
1) Coldgear Infrared V-Neck Long Sleeve by Under Armour
This long tee offers a thermal inner coating to keep you toasty on outdoor runs, and the thumbholes will keep your sleeves extra-secure. $50 at Under Armour.
2) Arm Warmers by Champion
Keep your hands warm and your fingers free to wiggle with these arm warmers. $10.39 at Target.
3) Aeroloft Running Vest by Nike
Filled with goose-down insulation, this sleek running vest provides warmth without weighing you down. A back zipper pocket offers storage for keys and cards. $180 at Nike.
4) Space Dye Headband by Saucony
Available in three colors, Saucony's best-selling headband keeps ears snug and warm. If you've got long hair, there's an opening in the back to pull your ponytail through. $20 at Saucony.
5) Isotherm Windstopper Tights by the North Face
The wicking material keeps you dry around the knees while the thermal inner layer keeps you warm. A back pocket can store energy gels or keys, and ankle zippers give your legs some air once you've warmed up. $140 at the North Face.
For men . . .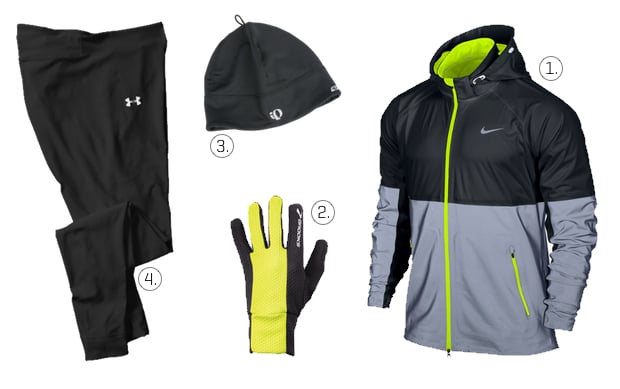 1) Shield Flash Running Jacket by Nike
This jacket has it all: reflectivity, breathability, water protection, and a hood, plus a dry-wicking inner layer. $350 at Nike.
2) Pulse Lite Glove II by Brooks
Available in five colors, these lightweight gloves feature a finger pad so you can still use your touchscreen tracker on your run. $25 at Brooks.
3) Thermal Run Hat by Pearl Izumi
Keep in the warmth with this hat, which has mesh lining around the bottom that provides ventilation when you start to work up a sweat. $25 at Dick's Sporting Goods.
4) Coldgear Compression Leggings by Under Armour
These compression Spandex sit tight on your muscles. The inner layer provides warmth, and the outer layer is quick-drying. The material is anti-odor, too. $50 at Under Armour.