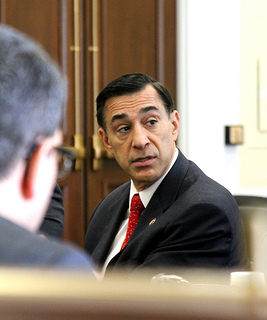 After a year of studies and proposals by the District government and the National Capital Planning Commission about whether to modify the Height Act that limits how tall buildings in DC can go, Congress intends to move fairly quickly on the matter, with the first hearing expected just a few weeks from now.
The House Oversight Committee is likely to schedule a hearing on changes to the Height Act in early December, says Ali Ahmad, a spokesman for Chairman Darrell Issa, a California Republican.
Issa, who has shown himself to be a strong ally for the District's interests since taking over the committee in 2011, asked the District and the NCPC last year to come up with suggestions about modernizing the Height Act, a 1910 statute, that feels painfully outmoded for a city with an expanding population and rising housing costs.
The NCPC is set to approve its final recommendations, which would leave the Height Act virtually unchanged, at a meeting later today. DC's proposal, developed by Director of Planning Harriet Tregoning, calls for allowing slightly taller buildings downtown and no caps on building heights in a few designated pockets with high population growth. The studies will be submitted to Issa's committee later this week.
Issa's hastiness in scheduling hearings should come as a relief to proponents of changing the Height Act. His leadership of the Oversight Committee expires at the end of 2014, and other Republicans on the panel who might succeed him have not shown the same interest he has in the District's affairs. (At least not those that don't involve anti-abortion bills.)
But Issa won't get the proposals he requested until one more lengthy public hearing today featuring a witness list people who want to leave the Height Act as it is. And the DC Council today came out near-unanimously in opposition to relaxing the law when Chairman Phil Mendelson introduced a ceremonial resolution opposing changes to the Height Act, even those that would give the DC Council control over building heights. Marion Barry was the only Council member who did not sign on as a co-sponsor.