Tara Gerke is a recent graduate of University of Maryland, where she received a bachelor of science in dietetics, but she's already hit the ground running in the nutrition field. She works as nutrition coach at a weight-loss company in Bethesda, and plans to become a registered dietitian. "I enjoy helping members discover their barriers to weight loss and coming up with creative solutions," she says.
When she's not helping others meet their health goals, she's training for her second half marathon in February, trying fitness classes at her local gym, and lifting weights. Read on to find out how the nutrition expert eats for a day.
Breakfast: Bowl of cereal with almond milk and a sliced banana. "I mix the Kashi GoLean vanilla-graham cluster and GoLean Crunch cereals together. Kashi cereals are full of fiber and protein that keep me full all morning."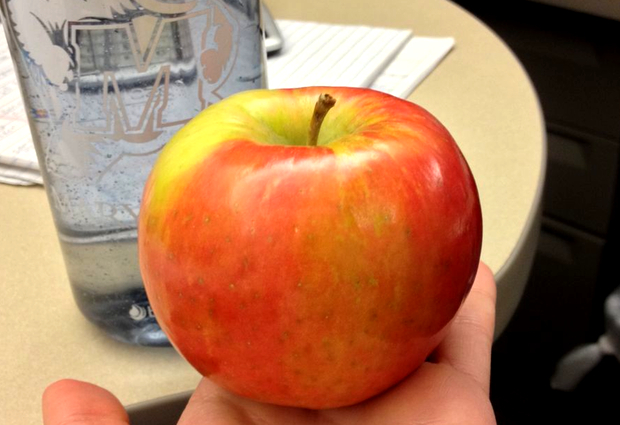 Mid-morning snack: "My mid-morning snack is usually an apple. Honeycrisp apples are my favorite—crisp and tart! I also drink water constantly throughout the day. I try to refill my 20-ounce water bottle at least twice during my workday."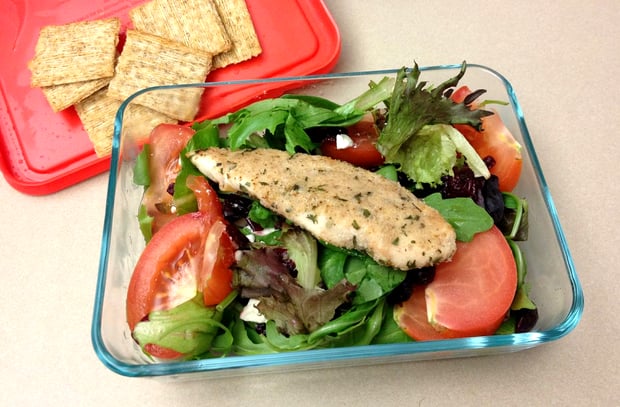 Lunch: "A salad with mixed greens, tomato, feta cheese, craisins, and leftover baked chicken breast from dinner the night before. I love mixed greens containing lots of different herbs; they provide great flavor. I also packed a handful of Triscuits for a salty, crunchy side. (Still drinking my water!)"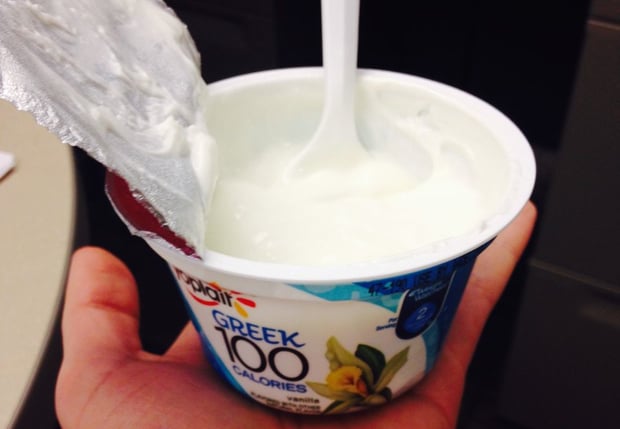 Afternoon snack: "I had Yoplait vanilla Greek yogurt for my afternoon snack. I had this a few minutes before leaving work so I would be fueled for my evening workout."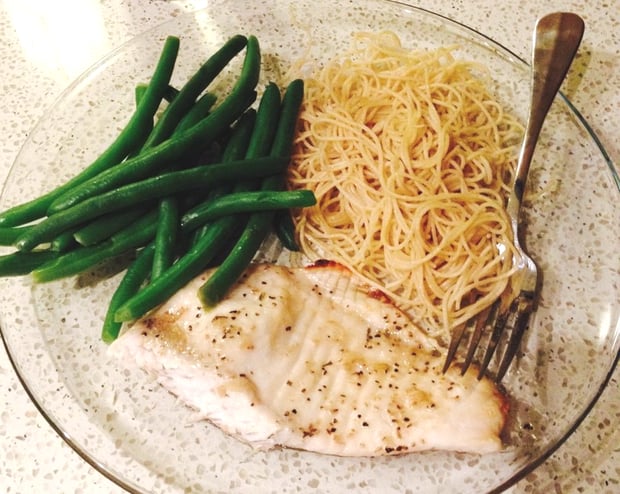 Dinner: "Baked lemon-pepper tilapia, green beans, and angel hair pasta with a big glass of ice water. I marinated the tilapia in a lemon-pepper dressing for about 15 minutes before baking. The angel hair pasta was from dinner the night before; I dressed it with extra-virgin olive oil and some lemon zest. The combo of protein and carbs was perfect after my leg workout."
Dessert: One fun-size packet of peanut M&Ms. "I have a sweet tooth, and we have some extra candy left from Halloween. The individual packets are perfect for self-control—one and done!"
Disclaimer: The Food Diaries series is intended to be inspirational and is not an endorsement of each individual's diet.
Are you a local athlete or health, fitness, or nutrition expert with a love for food? E-mail wellbeing@washingtonian.com to find out how you could be featured in our Food Diaries series.