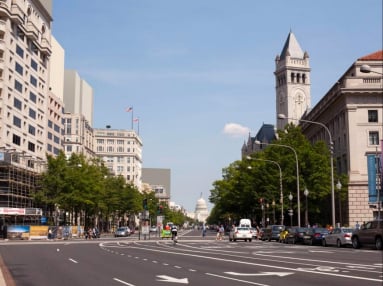 After more than four hours of angry, sometimes bizarre, testimony in defense of the Height Act, the National Capital Planning Commission voted to go with its original plan—not changing the law controlling DC's skyline at all, save a few perfunctory nitpicks.
Tuesday's hearing was another slog of dozens of witnesses, mostly senior citizens, lining up to defend downtown Washington's federally protected skyline and swipe away the increased housing demand created by a growing population. It voted 7-3 against sending to Congress the draft it released Sunday night potentially allowing taller structures outside downtown DC.The vote followed testimony that ranged from the petty to the inane.
Kathy Henderson, a neighborhood activist from Northeast DC, used her podium time to demand the resignation of Harriet Tregoning, DC's director of planning who authored the District's proposal on the Height Act that calls for significant, but still rather measured, alterations to the Height Act.
"The Office of Planning under Ms. Tregoning's leadership would get a big, fat zero," Henderson said, adding that the mere suggestion that buildings in DC go taller than 130 feet is an "affront to every citizen in the District of Columbia."
The commissioners running the hearing asked Henderson not to make it personal. "It is personal!" she replied.
But Henderson's gripes seemed placid compared to some of the other people who testified. Emanuel Tersh Boasberg, a retired Georgetown Law professor, proposed that defense of the Height Act be written in blood. "Let us all sign in blood for us to agree not to let pressure of developer greed," he said.
Tregoning, looking a bit frustrated by yet another hours-long session of having her ideas trashed, warned the commission that Congress may not ask the District and the NCPC again to propose changes to the Height Act. The witnesses who hung around until the end enjoyed hearing that though, and the commission did not seem to mind either.
Instead, House Oversight Chairman Darrell Issa, who requested Height Act proposals last year from the NCPC and the District, will receive the commission's first draft, which keeps the current building limits intact while making slight allowances for inhabitable penthouses and cleaning up 100-year-old fire prevention language.
With the NCPC voting to maintain the status quo, Tregoning's office must decide whether it wants to still submit its proposal to Issa's committee. A spokesman for the House Oversight Committee said yesterday that Height Act hearings will begin in December.