The area around 1800 M Street, Northwest, isn't lacking in sandwiches, with Taylor Gourmet, Bub and Pop's, TakEatEasy, the New Orleans Po Boy Shop, DGS Delicatessen, and the Greek Deli all within a three-block radius—not to mention the national suspects such as Potbelly and Au Bon Pain. Still, there's something about Delaware-based Capriotti's Sandwich Shop that seems to generate excitement. To start, the chain is giving away free sandwiches to the first 50 people in line when the shop opens Thursday at 11. Certain homesick Delawarians are also psyched for the arrival.
Even if you've never craved the trademark Bobbie, here's what to look for.
Subs with fun names
We're not at the level of a "double double animal-style" In-n-Out Burger (sigh), but the menu gets creative. There's a Capastrami (Capriottese for a hot pastrami Reuben), the Thanksgiving-themed Bobbie with turkey, cranberry sauce, and stuffing, and the double-decker Cran-Slam Club—basically a Bobbie with a ham sandwich on top (hello, Thanksgiveaster). You can also order a tuna sandwich and ruin all the fun.
House- and bakery-made ingredients
Tired of watching Subway prisoners(strikethrough) employees peel cheese from a plastic sheet? You'll find from-scratch touches here. Meats such as turkey and roast beef are slow-roasted on premises, while meatballs for an Italian-style sub are braised overnight. Bread is also delivered daily from Hyattsville's Uptown Bakers.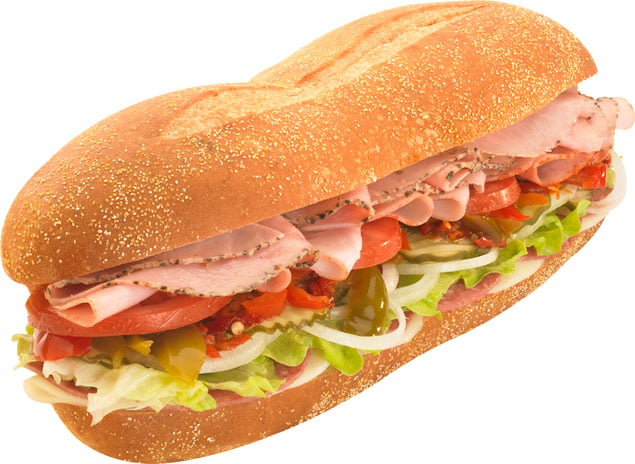 "Meats"
Vegetarians will find soy "turkey" subs and "chicken" cheesesteaks, as well as a veggie cheeseburger. Certain items can be veganized by removing the cheese.
More Capriotti's
Unlike most sandwich chains, the M Street location won't shutter in the evening. You'll be able to get a late-late-night Italian sub fix until 3:30 AM on opening day, and Thursday through Saturday going forward. Multiple locations are in the works, potentially including shops in Rosslyn, Georgetown, Capitol Hill, Bethesda, Rockville, and Reston.
And possibly more Joe Biden
The VP may deviate from his Pete's Apizza habit. Capriotti's claims to be Biden's hometown favorite, having delivered sandwiches for pre-debate and inaugural lunches. You may even catch Biden waiting in line for his free Bobbie.
UPDATE 1:20 PM: Make that definitely more Joe Biden. The Vice President was among the first customers at the opening this morning. According to the restaurant's publicist, who tweeted the below picture earlier today, the VP ordered two medium Italian subs—no onions, Italian hot peppers on the side—to take to the President.
Vice President Biden orders the 1st sandwich @Capriotti DC — Italian sub & The Bobbie pic.twitter.com/p8PAK4uM7F

— Jill Collins PR (@jcollinspr) November 21, 2013
Biden also picked up a Bobbie and a large Italian sub for his staff. Could a presidential appearance be next? The duo are known to like their trips to local sandwich shops.