Ask any local to name the most annoying thing about Washington on the weekends, and a leading answer is likely to be the glut of tour buses that swarm downtown and around the Mall. Wouldn't it be nice if we could put them out of sight?
That's the hope of the National Coalition to Save Our Mall, a group of philanthropists dedicated to enhancing and enlarging the Mall. The organization opened a showroom this week for a proposed parking garage and visitors' center to be built underneath a swath of the Mall.
It's an ambitious project, and unlikely to begin in the next few years, but it would do a lot more than get those pesky buses out of the way. An garage under the Mall could also serve as a stormwater drainage facility sorely needed by the flood-prone buildings that line Constitution Ave., Northwest.
A torrential storm in July 2006 that flooded much of Washington left several federal headquarters—including the Justice Department, Internal Revenue Service, Commerce Department, and the Environmental Protection Agency—innundated for days, along with a few Smithson buildings and the National Archives. The District Department of the Environment called it a 200-year storm in a 2011 report that also warned that downtown DC is still unprepared for a similar event.
The proposed subterreanean garage, designed by the architect (and former Washingtonian contributor) Arthur Cotton Moore, is designed to prevent future floods by also serving as a stormwater reservoir. The collected water could then be used to irrigate the Mall.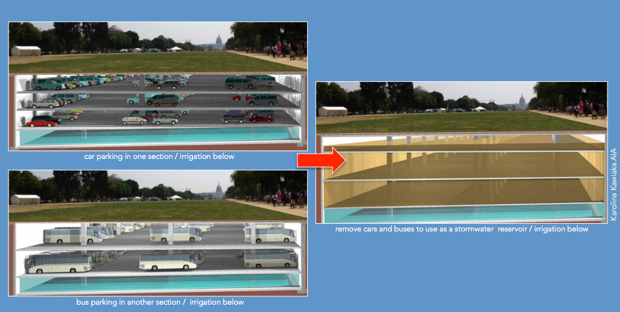 Moore says the garage would cost about $450 million and take about 18 months to build. The Coatlition to Save Our Mall claims it can be done with private funds and that parking revenue would help recoup construction costs over many years, but any changes to the Mall need to go by many local and federal stakeholders
So far, reception on Capitol Hill has been chilly. Eleanor Holmes Norton tried to introduce legislation earlier this year to fund a commission to consider a garage-stormwater reserve, but was swiftly defeated.
"We haven't given up," Moore says. "Congress is a little odd right now. All we're asking for is simply a commission to study the feasibility."
The logic of a garage under the Mall that can also collect vast amounts of rainwater might not be that much of a stretch. In addition to Moore's model of buses and cars parked below the grass, the showroom also includes photos of similar structures beneath landmarks around the world, including the Vatican.
If the Vatican can put in an underground parking facility, Moore predicts people her could stomach seeing the Mall dug up for 18 months for a garage that could also alleviate a serious environmental concern. "It's done all over the world in fancy places," he says.