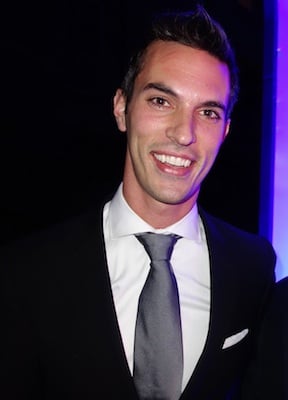 NPR's Ari Shapiro will be a full-fledged foreign correspondent come January 2, when he moves to London after almost four years in Washington on the White House beat. He's hoping the new assignment will bring to his life fewer reasons to wear a suit, less knowledge of British Prime Minister David Cameron than he has of President Barack Obama, and the chance to meet some idols he can address as "Dame" and "Sir." Shapiro, who is 35, says he expects to miss Washington but plans to return often to see his husband, Michael Gottlieb, and friends. What he'll become, he says, is a "transatlantic commuter."
Though he's never been based in London for work before, he lived there for a few months in 2000 while Gottlieb was fulfilling a Fulbright fellowship. They lived in a "damp, moldy flat" far from the center of town, and those three months "were the rainiest winter on record," he says. With the new gig, he's found an apartment in Spitalfields, which he describes as adjacent to the East End, which is "the 14th Street of London—fun and creative."
On Tuesday, we talked with Shapiro about the old assignment, the new assignment, and what he'll miss about Washington.
How are you spending Thanksgiving, that most American of annual holidays, before making the big move?
We have 15 people coming to our house for dinner, and after we invited all these people I was asked to fill in as host of All Things Considered. I've never hosted it before. I enthusiastically said yes and then started scratching my head and asked, "How will I get dinner for 15 people on the table, given that I will be on the air?"
Isn't that why we have husbands?
Yes, and parents and in-laws. A bunch of people will be cooking at my house in my absence.
What will you miss about Washington?
Besides my husband, who may follow in time but is not initially going with me? I love that I have what feels like an urban village. Most of my friends live within walking or biking distance. I have neighborhood bars and restaurants where I know the people who work there. I have an urban life that feels like a very old-fashioned, small-town community.
What won't you miss about Washington?
"Where do you work?"
What is the most important lesson you learned on the White House beat?
It's only radio. [At the White House] we cover so many real crises of international importance, profound tragedies, issues of war and peace. It puts in perspective a crisis in my job or my life.
What are you passing on, in experiences and legacy, for your NPR replacement at the White House?
My replacement is Tamara Keith, who has been our Congressional correspondent. She shadowed me for a week at the White House, and I introduced her to everyone I can think of. In our dimly lit booth, when I first arrived, I brought some lamps. I plan to leave them there. I also purchased from the MOMA [Museum of Modern Art] store a print by Louise Bourgeois that says "Be calm." I'm leaving that on the wall of our booth.
What is your advice to White House correspondents, present and future?
Find ways to get off the treadmill from time to time. It is so easy to be consumed by the daily churn of news. You need to find ways to explore the stories that are not on the front page every day.
Do you see yourself having a lifelong career in radio and news, and, if not, where do you think you are headed?
The great thing about NPR is the number of role models here who have had decades-long, fulfilling careers: Nina Totenberg, Robert Segal, Mara Liasson. I could see myself easily following in that path. That said, who knows?
You've been on a lot of lists—for example, Paper's Most Beautiful and MSNBC's Power List. Did one matter more than the others? Do lists matter in general?
Every time I am on a list I take it as a great compliment, but I try not to let it become more than a passing compliment.
In 2007 you claimed you had four suits. You are about to move to a city more formal than DC. Do you have more suits now?
I do have more suits now, but I plan to wear them less, because many of the stories I do in London will have nothing to do with people who wear suits. I will have the opportunity to report on artists and athletes and scientists, in addition to politicians and businesspeople.
Not as a competition, but as a comparison, how do you expect to match David Cameron with Barack Obama?
I was having drinks with my predecessor on the London beat, and I asked him to tell me everything I need to know about British politics. He said, "If you are doing a story about it more than once every few months you are doing it wrong."
What I mean by this is, at this point I could probably write a biography of President Obama and I could probably sketch a rough profile of David Cameron. By the time I leave the London beat I hope I don't know as much about David Cameron as I know about Barack Obama.
Do you have any idols you hope to meet over there?
Dame Helen Mirren. Sir Ian McKellen. I wouldn't turn down a lunch date with Elton John. I love that I will get to refer to people as "Dame" and "Sir."
Washington is one of the more comfortable cities in which to be gay in the US, possibly in the world. What do you expect from London?
London is such a sophisticated global city, and the world is such a different place today than it was even ten years ago. I don't expect much difference.
You are from Portland, Oregon. What do you think London will have in common with Portland, other than climate?
A great bike culture. Portland has more bicycles per capita than just about any city in America. London—and most of Europe—has a bike culture much more similar to Portland than DC. I ride my bike everywhere.
You sing with the Portland-based group Pink Martini. What will happen with your appearances with them? More of the Euro circuit?
I think so. The band performs a lot in Europe. I have done a few European tours with them, but I expect that will increase now. I still hope to do major East Coast shows, but shows in second-tier American cities and out West might become more infrequent.
You sing in five languages. Do you speak all of them, too?
Not at all. I kind of speak two languages other than English—French and Hebrew. When I have to sing in languages I don't speak, I learn what the words mean and find a native speaker to teach me the correct pronunciation.
Do you have a favorite language for speaking or singing?
I love the sound of Italian. It's such a musical language. Although it is fun to sing in Hindi, the syllables do not intuitively follow each other in a way the ear would expect.
You depart for London on January 2. How do you plan to send yourself off?
I don't know. I love Komi. Maybe dinner at Komi. We have been going for years and years and years. It's the kind of relationship with a restaurant that I would be lucky to find in London.