I'll be the first to admit I'm not the best companion to take to an art museum. Ask me what I think of a Piet Mondrian masterpiece and I'll probably blurt out something idiotic like, "I could've drawn that," then start complaining about my sore feet.
But a new exhibition at the Arthur M. Sackler Gallery is made for people like me, who would rather spend a few hours in a yoga studio than in the confines of a museum. "Yoga: The Art of Transformation" is the world's first exhibition of yogic art and is drawing art lovers and yogis alike to its collection of 143 objects spanning more than two millennia.
One freezing cold Sunday afternoon found 15 of us standing in a circle at the entrance of the yoga exhibit, about to embark on a 45-minute tour followed by 45 minutes of yoga class. It's all part of the museum's Art in Context: Practicing Yoga in the Galleries program, a 90-minute workshop taught by a museum docent and guest yoga teacher.
A brief round of introductions revealed that we were all in different points in our yoga practice, from people with ten years of experience to beginners. "We'll examine how yoga practice has changed and evolved," explained the docent, Bonny Cochran, while yoga instructor Linda Lang assured us, "This will not be a sweaty class."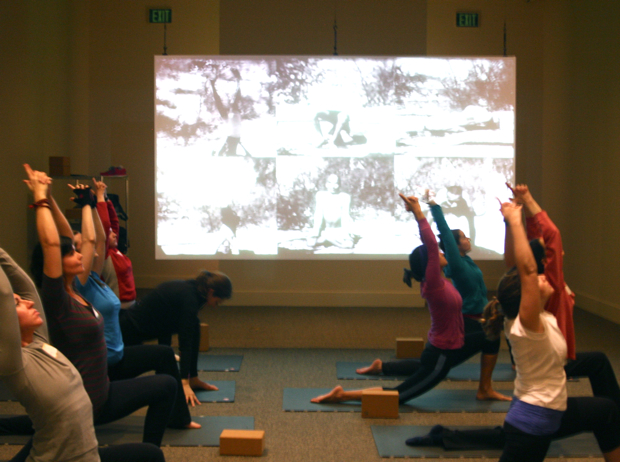 Cochran encouraged discussion among the group as we stopped to take in the majestic sculptures including the 12th-century marbled Jina. Magnifying glasses were available to examine the intricate, glass-enclosed sculpture of a yogi on a bed of nails and the watercolor "Vishnu Vishvarupa" that's just 15 inches tall, despite the towering image of it that welcomes visitors at the gallery's doors.
The tour ended with a brief look at yoga in the modern world, with magazine covers of the performer Koringa and an essay on the growing field of yoga and medicine. From there we entered a sectioned-off space next to a movie screen displaying, "Krishnamacharya Asanas," or what's thought to be the earliest footage of yoga postures performed by the father of yoga, T. Krishnamacharya.
As we tossed off our shoes and sat cross-legged on our provided yoga mats, we soon became part of the art as Lang began our relaxing class. Museum-goers took a seat to watch as we went through a series of chair poses, warrior 1 poses, and down dogs. As we lay in savasana, now better understanding the long, impressive history of yoga, I was all the more appreciative of my personal yoga practice as a true art form—and not just another fitness class.
Art in Context: Practicing Yoga in the Galleries. 1050 Independence Ave., SW. $15.