Indoor cycling instructor Melissa Kullen has a lot on her plate (no pun intended). Not only does she lead back-to-back cycling classes four days a week, but she's also the mother of three children and the master cycling instructor at ZenGo Cycle in Bethesda. On top of all that, she's helping lead efforts to open ZenGo's second location later this month in Logan Circle.
"You can imagine why, between caring for my kids, teaching classes, training instructors, and building our thriving ZenGo business, I keep my meals simple, simple, simple," Kullen says. "I think of food as fuel and want to make sure my body can get me where I want to go, no matter where the day may take me." Read on to see how the busy mom eats for a day.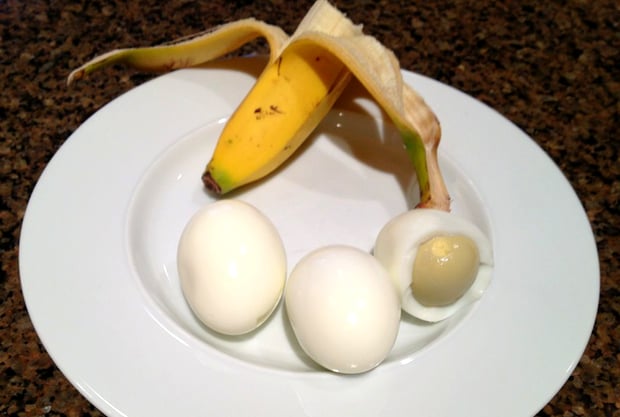 Breakfast: "Before I put any food in my mouth, and especially before my necessary cup of coffee (I use unsweetened almond milk and a small amount of Stevia), I always drink a large glass of water. Starting my day hydrated is especially important because I sweat a ton—I mean buckets—in my cycling classes. My breakfast typically consists of one egg, two egg whites, and a banana. The banana helps me avoid leg cramps and gives me sustained energy through back-to-back classes four days a week. The eggs are hardboiled because it's super-simple to keep them on hand in the fridge. They're also great as snacks for my kids. On the rare occasion that I have a few extra minutes, I'll make a spinach, kale, or broccoli omelette. As you can see, that didn't happen today!"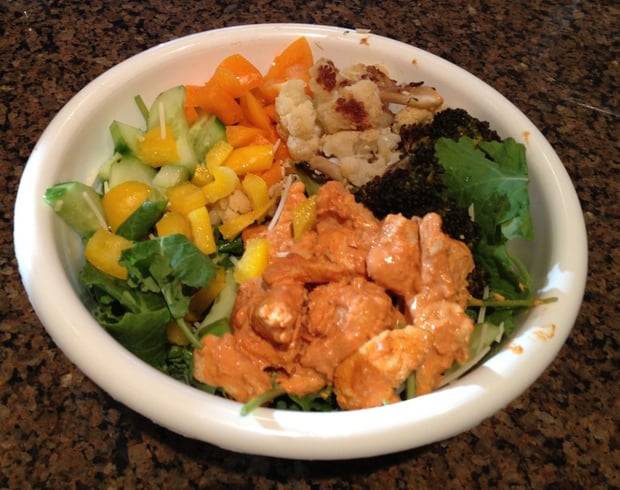 Lunch: "Always a salad. I make 'em big and as colorful as possible, with a good amount of protein—typically leftover grilled chicken or salmon. I start with arugula, spinach, or mixed greens and then throw in all my favorite veggies: roasted cauliflower, roasted broccoli, cucumber, and red and orange peppers. To highlight the flavors, I'll sprinkle on some Parmesan cheese and drizzle on a bit of low-sugar dressing."
Snack (not pictured): "I'll grab either a protein drink or some egg whites (I eat a lot of eggs) and some veggies. Sometimes I dip the veggies in hummus. Sometimes I cut half an apple and dip it in natural peanut butter. And because peanut butter is one of my weaknesses, I'll limit my myself to a tablespoon or so—otherwise I'll eat the whole jar!"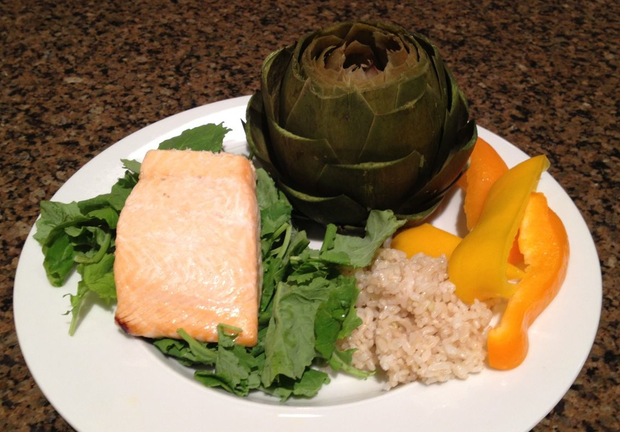 Dinner: "More protein, more veggies, a salad, and possibly some brown rice. I flavor it with a bit of lemon juice, hot sauce, or salsa. And while I focus on colorful, fresh food to keep myself feeling great, I'm also known for savoring the occasional piece of chocolate or cookie. We are human, after all!"
Disclaimer: The Food Diaries series is intended to be inspirational and is not an endorsement of each individual's diet.
Are you a local athlete or health, fitness, or nutrition expert with a love for food? E-mail wellbeing@washingtonian.com to find out how you could be featured in our Food Diaries series.