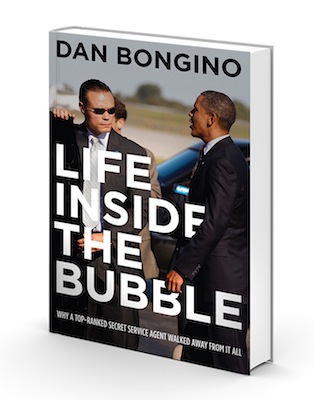 Secret Service agents take an oath promising they'll be "worthy of trust and confidence," and Dan Bongino, a Republican candidate for Congress in Maryland, says he's honored that vow in writing Life Inside the Bubble, about his 12 years in the United States Secret Service—four of them spent protecting President Obama. "There's nothing confidential in the book," he told Washingtonian. "I was careful to scrub it."
That didn't stop a fierce attack from Ed Rogers, a former Reagan White House official. "One of the president's personal bodyguards writing a book that betrays the trust between the Secret Service and the commander-in-chief is beyond the pale," Rogers wrote in the Washington Post, urging, "Don't buy it, don't read it."
"Ed Rogers never read the book," Bongino said at the start of a wide-ranging phone interview. "It's not a tell-all. It's my tale of the Secret Service. I've had problems with the Republican establishment in the past. Ed Rogers is a career insider who has personally enriched himself off of what he decries."
Bongino, an outspoken conservative, makes no apologies for his book or the threads of ideology and politics that run through it. He says his experiences as a presidential protector fueled his desire to become a political candidate. After transferring out of the White House detail to the Baltimore field office in 2010, he retired from the service in 2011 to run against Maryland's Democratic Senator Ben Cardin, who won with 55 percent of the vote.
Bongino feels confident he'll do well in the June Republican primary for Maryland's sixth congressional district and is in "terrific shape" to defeat incumbent Democrat John Delaney in the fall. The sixth district stretches across the northwest part of the state that includes parts of Frederick, Hagerstown, and Cumberland.
Bongino's path to the Secret Service began in the late '90s in Brooklyn as an officer with the New York Police Department. After weeks of intense training, one of his first Secret Service protective assignments was on Hillary Clinton's Senate campaign. In 2006 he was assigned to the Presidential Protective Division, and spent his first years protecting President George W. Bush and his family.
An agent who worked with him said on background that Bongino was "a very good investigator and protective agent, widely liked and respected across the organization."
In our conversation with Bongino we discussed everything from the challenges and mindset of a Secret Service agent to how they pick their signature sunglasses. Here are the highlights:
In the book you express displeasure with Secret Service upper management. Why?
Not all of them. There's a lot of good people there. It's not so much the people but the organization. They tend to be a little stoic, to be "because that's the way it's always been done." That mentality would never stand in the public sector.
You also express displeasure with the media, in particular the White House press corps.
I definitely have a real frustration with the media, especially having dealt with them as an agent. We're talking about significant people, not interns. I can't for the life of me figure out why conservatives and libertarians can't get a fair shake. Members of the media can't seem to get past their own bias.
Did you decide to write the book before or after your Senate defeat?
Afterward. I didn't really decide to write the book. I was keeping a diary of my story, and my campaign media rep read it and said, "This would make an interesting story." I cleaned it up and decided to pitch it as a book. My 12 years in government were spent with people of the highest caliber, and I was fascinated with how we kept getting it wrong.
Back in 1999, when you heard you'd made the cut to join the US Secret Service, what was your reaction?
Elation. Shock. Astonishment. Happiness. At that time it was so hard to get into the Secret Service. I was completely floored. It was almost like what a significant high would feel like, but I haven't ever been down that road.
There's a message inside Secret Service headquarters that says, "Some grow up wanting to be President, and some grow up wanting to protect the President." What did that mean to you?
The nobility of the job, of the Secret Service's mission: Keep this guy, or woman, alive, no matter sex, race, political ideology. You die first. That sign summed it up.
You say you decided to go on an alternate path—into politics—while you were still protecting President Obama. In fact, you say you reapplied yourself to the job. But did that ambition undermine your commitment?
No, never. I think it furthered my commitment to the job. I was friendly with the staff. You are never friendly with the President. It doesn't work that way. They knew my views, that I was a conservative libertarian. That ideology had nothing to do with my commitment to keep this man and his family safe.
Were there ever any times when you question whether you would give up your life for the safety of the President?
Never. Not a millisecond. My commitment was ironclad.
Do you think if in your years at the White House you had been protecting a Republican president that you would still be on the job today?
That's a barn burner. If Obama hadn't got elected, would I still be there? There's no question that President Obama's political ideology was a significant factor in me deciding to get involved in politics, which required me to resign. But if Mitt Romney had won, no, it wouldn't have kept me there, because my frustration with the way the government was running had been a long, ongoing process.
Did you have to show your book to the Secret Service?
No.
Regardless, was there any feedback from management about the book after it was published?
No. As a matter of fact, agents I know have been universally positive.
You were with the Secret Service both before and after the 9/11 terrorist attacks, and were in New York at the time. How did that terrorist event change the organization and the way it does its work?
After 9/11 we had to seriously calculate for even the most fantastic of potential threats.
When you are on a security detail protecting the President, what is your attitude toward the public?
Everybody is treated the same. We're only looking for a threat. The public is a bunch of hands. It's almost like seeing an ocean for the drops of water in it. You can't shoot someone with your eyes. Hands are where the damage is done. It's actually very damaging to the threat environment to start engaging with people.
Do you ever feel the public gets in your way?
No. The President can't go around in a steel box, as much as the Secret Service would like him to. Protection is an art form, keeping the President available to the public while protecting. Most of the hard protection is done by the police, the perimeter work.
We just had the 50th anniversary of the assassination of President Kennedy, which was widely viewed as a Secret Service failure, including by the service. How is that viewed on the inside?
It is very personal. That was the Secret Service's 9/11. Nothing was the same post-JFK. It's not even the same Secret Service.
What are the questions a would-be applicant should ask him or herself before applying for the Secret Service?
If you are really committed to political ideology, it's not your kind of job. It will frustrate you. Maybe look into FBI or DEA. You have to put that stuff out of your head. I didn't understand how much it would impact me. Also, your family life. You will be forced to make devastating choices. If that bothers you before you've sent in your application, don't send it in.
The process for acceptance includes a grueling eight-hour polygraph test that you say is designed to break even the most skilled subject. How?
Inside the law-enforcement field the Secret Service is noted for having the toughest polygraph. There are some good liars in the world. They will not beat this polygraph. You think you are being asked a simple question, but it's not. It's really tough. For example, have you ever lied to your parents? And I thought, "Of course." I answered, "Yes," and I wondered if that just lost me the job. Are they really looking for people who never lied to their parents? I never found out the purpose of that question.
You say there are "unwritten rules" for a Secret Service agent assigned to the White House. Such as?
The dress code. Every time you are on the 18 acres you have to be in a suit, even if you are coming in on your day off to pick up something. No one ever tells you this. If you are not in a suit, don't approach those 18 acres.
Secret Service agents are portrayed as a stereotype in how they dress—dark suits, dark coats, dark glasses. Is there a tutorial on how to dress as an agent?
No one tells you anything. But all you have to do is wear a non-white shirt once and you find out you are that guy. You buy your own clothing. There's no allowance. You figure it out by social modeling. So in a war zone in Afghanistan, in the middle of Bagram, in a sandstorm, I was in a suit and trench coat.
If you're on a golf course, however, you are not expected to wear a suit.
And what about the sunglasses? Is there a preferred brand?
Maui Jim's. People think it's Ray Ban, but every agent loves Maui Jim. They are light and they never break.
You say reputation management is a skill you must learn quickly in the Secret Service. Why?
Like those other rules that are never spoken, you never complain. The thing about the Secret Service, and different from the NYPD and the FBI, is that the Secret Service culture is very insulated. You never whine. If you get that reputation you can never ever shake it.
What was it like the first time you walked along a presidential motorcade, which was the day of President Obama's first inauguration?
The moment he came into my zone there was fear and anxiety, but it was mixed with a sense of amazement that I was part of this. It was a historic day, an unbelievable moment for the country. But as he got close there was a clear pivot. I remember shifting into game mode, like a horse with blinders on. It was laser focus.
Are the people who protect the President paid what they are worth?
They are worth a lot, they are the best in the business, and they are paid fairly.
If you were to become head of the Secret Service, what would you do differently than the way it is currently run?
I would eliminate the investigative mission out of responsibility to the government at large and the taxpayers. They are good investigators, but they are overburdened with too many tasks.