When "What are we going to do this weekend?" becomes the household refrain, it's time for some adventure. Here is our list of 10 things every family must do for the sake of good old-fashioned fun.
1. Course Work
Unleash your inner Tarzan with these outdoorsy escapades.
Age: 8 and up
(Weight requirements vary for each activity)
Eat a good breakfast before heading out to this two-acre obstacle-course park. Create an à-la-carte adventure with a mix of ropes courses, a 43-foot-high climbing tower, and ziplines, or try the four-hour Terrapin Challenge that lets you mount all 32 elements. Whatever your path, each adventure is led by a knowledgeable (and entertaining) guide—even novices will feel comfortable scaling up. On October 6, the park will test visitors' zombie apocalypse survival ability as they climb the courses chased by the undead. Don't miss the giant tire swing that achieves two gs after it's been pulled up almost 40 feet.
Admission: $10 to $79.95, depending on activity
8600 Foundry St., Savage, Md.; 301-725-1313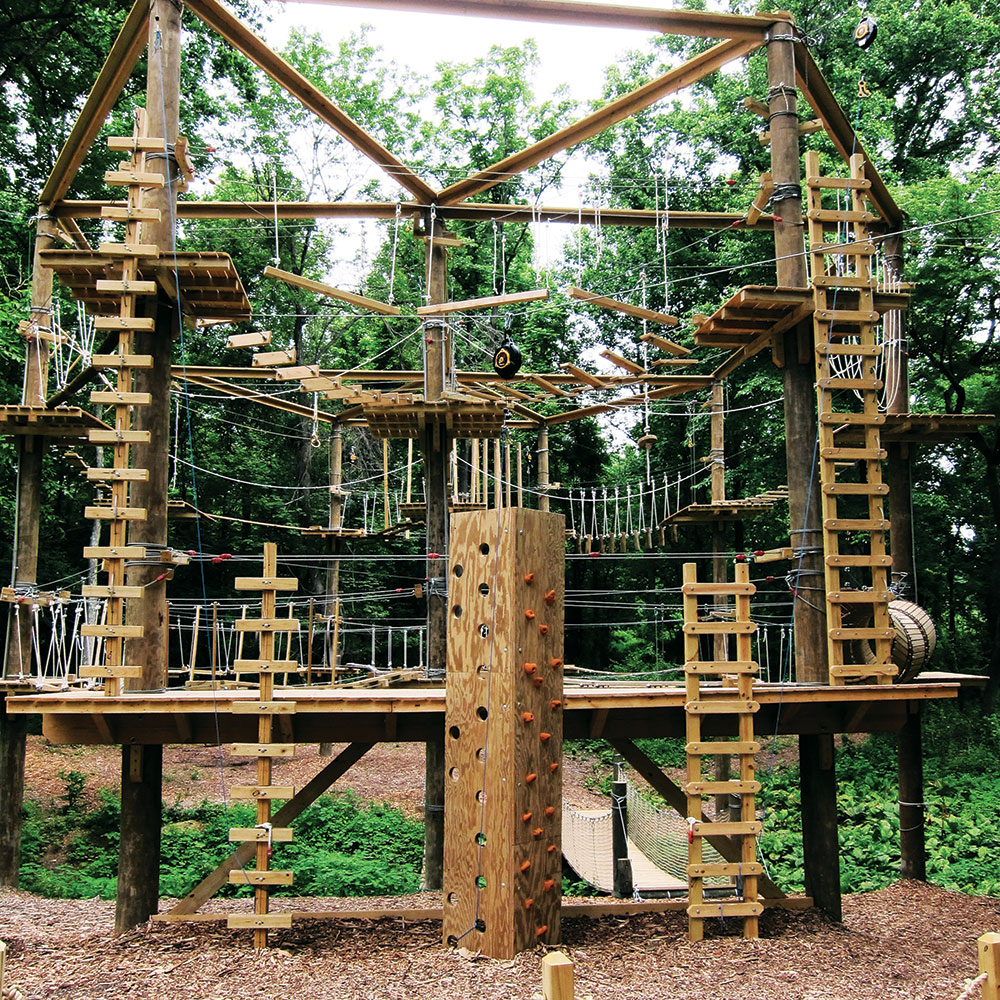 The Adventure Park at Sandy Spring
Age: 5 and up
The kids don't have to run away and join the circus to work on their balancing act. Visit the largest aerial forest adventure park in North America—five acres designed by Swiss mountaineers—with 13 color-coded ropes courses from kiddie-level purple to 80-foot-high daredevil double black diamond. Your little monkeys will traverse rope-and-cable-based bridges, logs, and plank barrels to move from platform to platform. For a less structured quest, schedule a party at the 30-foot-high Labyrinth, a vertical structure that combines several levels, making it ideal for groups. While there is a concession stand with snacks, outside food and drink is welcome.
Admission: $49 for adults, from $39 for children
16701 Norwood Rd., Sandy Spring, Md.; 240-389-4386
Age: 10 and up
Try something different, like a skateboard zipline, at Go Ape!'s treetop adventure park that boasts a gamut of ladders, crossings, and rope swings. The Rock Creek Regional Park location is made up of five sections escalating into the forest's 40-foot canopy. Younger guests can experience the ropes at Go Ape!'s new Freedom Park in Williamsburg, which offers a Treetop Junior course for adventurers as short as 39 inches. (Adults can still get a thrill—the last zipline on the more advanced course runs for 600 feet.) This outpost is surrounded by two miles of hiking trails and a 20-mile mountain bike route.
Admission: $55 for adults, $35 for children
6129 Needwood Lake Dr., Rockville, Md.; 5537 Centerville Rd., Williamsburg, Va.; 800-971-8271;
2. Start your Engines!
Age: 8 to 15
Looking for an adrenaline kick? G-Force Karts is your answer. The three-quarter-mile indoor track lets adults maneuver a kart at up to 45 miles per hour; junior karts top out at 35. There are super karts available for ages 8–15, which full-throttle hit 45 to 47 miles per hour. You can rack up at least 15 laps during the eight-minute race. Play a round of laser tag or paintball before heading home.
Admission: $22 per race, $7 for laser tag, $9 for paintball
4245 Carolina Ave., Building B, Richmond, Va.; 804-228-0188
3. Take a Farmcation
All ages

Families looking for a simpler way to unwind might consider a weekend on a farm—some let kids try their hands at daily chores like egg collecting or enjoy an encounter with cuddly animals. Check out farmstayus.com to search for kid-friendly lodging by state. We like Fairwinds Farm & Stables (41 Tailwinds La., North East, Md.; 410-658-8187) for its pony rides and the chance to groom horses. At Olde Fogie Farm Bed & Breakfast (106 Stackstown Rd., Marietta, Pa.; 877-653-3644) guests can milk a goat or play with two adorable potbellied pigs. The pond even has fish so friendly you can pet them—you can even swim with them, if you feel the urge. WeatherLea Farm &
Vineyard (39595 WeatherLea Farm La.,Lovettsville, Va.; 540-822-5097) is home to 35 sheep and two llamas, and has a vineyard. Plan a spring visit to see baby lambs. Trips to WeatherLea Farm are by appointment only, so don't forget to plan ahead.
4. (Don't) Keep Your Hands to Yourself
Age: 7 and under
Please Touch Museum, a 156,000-square-foot children's palace, takes playtime to a new level. If the eight learning zones—make a point to see the Children's Hospital exhibit that lets junior doctors drive an ambulance or perform an x-ray—don't wear your kids out, they can mount a rock-climbing wall, ride the 110-year-old carousel, or take in a puppet show. Parents will appreciate the walk down memory lane; the museum is home to some 25,000 vintage toys and games—think rare Barbie dolls and Star Wars action figures.
Admission: $16
4231 Avenue of the Republic, Philadelphia, Pa.; 215-581-3181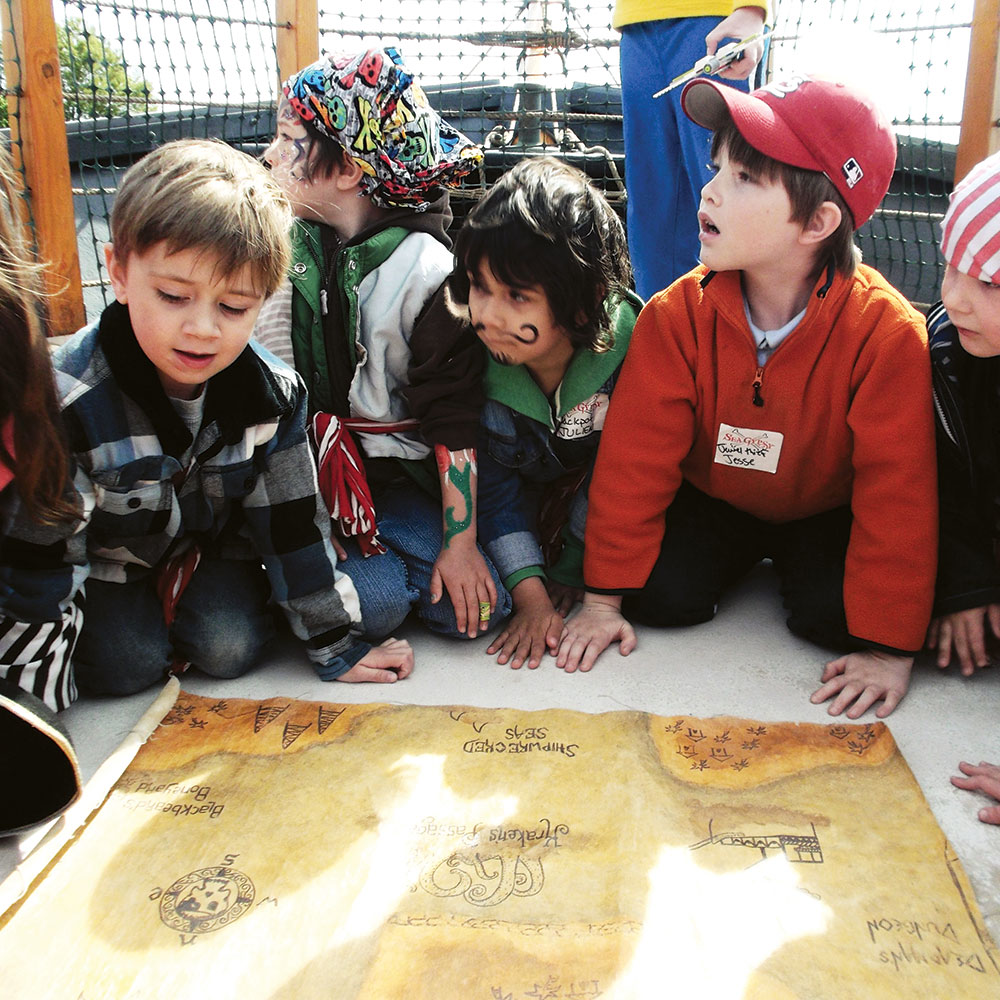 5. Ship, Ship, Hooray!
Age: 3 to 10 (recommended)
Seafaring tykes hunt for treasure with Pirate Adventure on the Chesapeake aboard a custom-built 45-foot ship that sails through Annapolis Harbor for more than an hour. Seasoned buccaneers guide the little rascals through an adventure bound to make Jack Sparrow jealous. Kids get into character with face paint and pirate garb (a sparkly mermaid vest is an option, too), then follow a map in search of sunken riches. Once they ward off Pirate Pete with real water cannons, it's time to dole out the booty.
Admission: $20
311 Third St., Annapolis, Md.; 410-263-0002
6. Wild Mornings
All Ages
The early bird gets the worm, or in this case, an intimate meal with one of Maryland Zoo's famous creatures during a Breakfast With the Animals session. Munch on French toast just outside the animal's exhibit as zookeepers give the 411 on the guests of honor—polar bears, chimps, or penguins. (You just might get a chance to toss the birds some frozen fish.)
Admission: $65
Penguins September 7, chimps September 21, polar bears November 9; see website for 2014 schedule. Ticket to Breakfast With the Animals includes zoo admission.
Druid Hill Park, Baltimore; 443-552-5245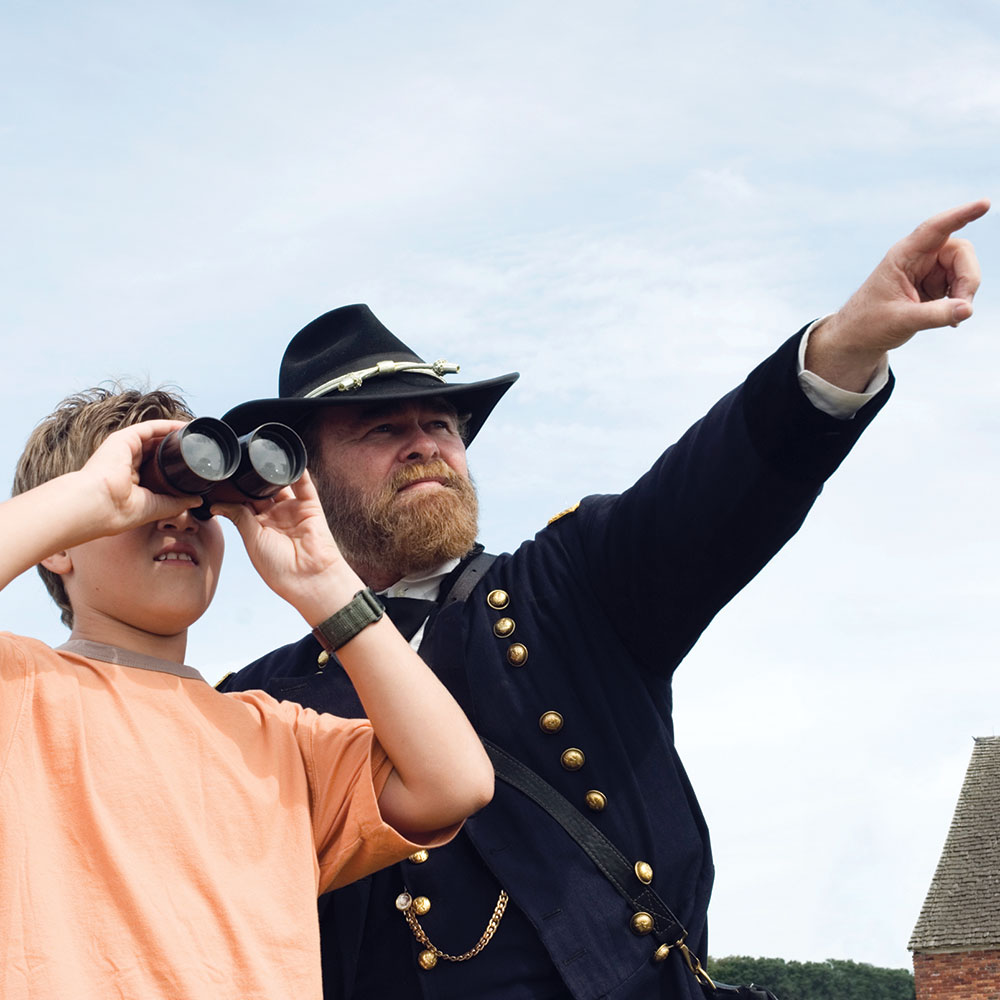 7. badge of honor
Age: 7 to 12
Kids can pick up some Secret Service tips at the Eisenhower National Historic Site in Gettysburg, which is celebrating the 150th anniversary of the Civil War battle. Aspiring agents will work for their Junior Secret Service badge and certificate by exploring the premises for suspicious activity with the help of their manual booklet. Parents will get an education, as well: The 1950s house of the 34th president, who was the supreme commander of Allied forces during WWII, is a fascinating time capsule that overlooks the historic battlefield.
Admission: $7.50 for adults, $5 for children
1195 Baltimore Pike, Gettysburg, Pa.
8. Caves of Wonder
All Ages
Pennsylvania has more than 1,000 caves—nine of them are open to explore and close enough for a day trip. Lincoln Caverns boasts massive flowstones, delicate stalactites, and sparkling crystals. In the hour it takes to explore the three-quarter-mile loop, your guide will cover the history of the cave, which was discovered in 1930, as well as details about the different formations within. Wrap up the day by panning for gems—you're guaranteed to go home with a sparkler or two. Admission $12.98 for adults, $12.48 for children (includes regular bag of mineral rough to pan for gems) or $7.48 tour only. 7703 William Penn Hwy., Huntington, Pa.; 814-643-0268. Indian Echo Caverns are known for limestone carved by 440 million years of trickling water. Admission $14 for adults, $8 for children. 368 Middletown Rd., Hummelstown, Pa.; 717-566-8131. Families traveling a bit farther should stop at Penn's Cave, to take a motorboat tour of the cavern. Legend has it the spirit of an exiled lover haunts the passageways. The last few miles of the four-hour trip from DC wend past century-old Amish farms and other scenic highlights. Plan accordingly for cave exploration; temperatures in most caves hover in the 55 degree mark year-around. Bring a light jacket and slip-free shoes with rubber soles. Admission $16.95 for adults, $8.95 for children. 222 Penns Cave Rd., Centre Hall, PA.; 814-364-1664.
9. Play Paleontologist
Age: 8 and up
It might not look it, but 17 million years ago, Calvert Cliffs State Park was covered by a shallow sea abundant with sharks. The water may have retreated, but Jaws has left a few souvenirs—fossilized teeth, buried on the shores of Calvert Beach. Bring a small bucket and shovel, then start digging along the coast. The best time to go is after a storm, which churns the waters and helps reveal new specimens. Though you may find teeth from a quarter of an inch to an inch long, some collectors have left with five-inch chompers. Those who want a bit of guidance can join a paleontologist on a Fossil Field Experience at the Calvert Marine Museum.
Admission: $9 for adults, $4 for children.
Fossil Field Experience: $20 per person
14200 Solomons Island Rd., Solomons, Md.; 410-326-2042
10. Get a Little Crabby
Age: All Ages
Roll up your sleeves if you want to get your hands on this Maryland specialty. The Kids Krabbing program at Harrison House Country Inn on Tilghman Island lets you drop crab lines from the dock; you can also go crabbing on a 35-foot boat guided by a commercial waterman. Keep your catch when your adventure is over—the kitchen staff will happily steam a few crustaceans with Old Bay seasoning for a family feast.
Admission: $99.99 per person for four-hour boat trip
21551 Chesapeake House Dr., Tilghman Island, Md.
410-886-2121