When they're not working at their nonprofit day jobs, newlyweds Katie and Doug Hay are tag-teaming their meals together to stay energized during yoga classes and long runs throughout the District. The duo considers themselves "at-home vegans," which means they eat vegan at home and vegetarian outside of the house. And while Katie is teaching or taking yoga classes daily, she's also joining Doug on some of his "shorter" runs as he trains for his first 100-mile ultramarathon. Read on to see how the couple stays fueled together.
Breakfast
Doug: "This morning I threw together a smoothie for the two of us before Katie took off for a morning yoga class and I sat down to work on a blog post before work. The smoothie included a banana, a few handfuls of spinach, frozen pineapple, four sprigs of frozen broccoli, about half a cup of walnuts, a scoop of pumpkin seeds, chia seeds, ground flax, and water. I'm also a big coffee guy, and didn't make it more than 20 minutes before I poured my first cup."
Katie: "I ate a banana before teaching a 7 AM yoga class and then slurped down the smoothie when I got to work. That's also when I brewed my daily cup of green tea accompanied by a large glass of water."
Morning Snack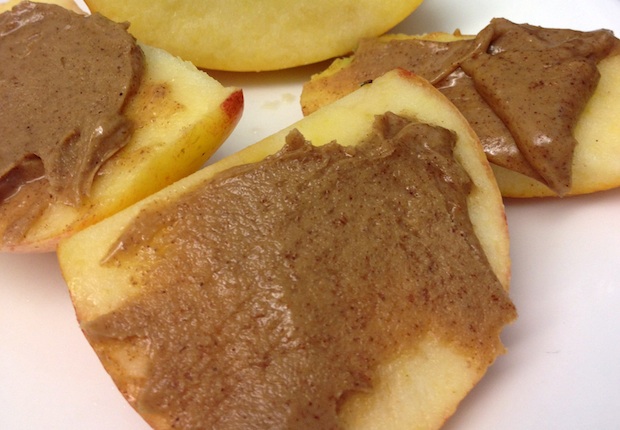 Katie: "I'm a snacker—I can't go more than a few hours without food. Lately I've been enjoying farmers market apples with almond butter for added protein."
Lunch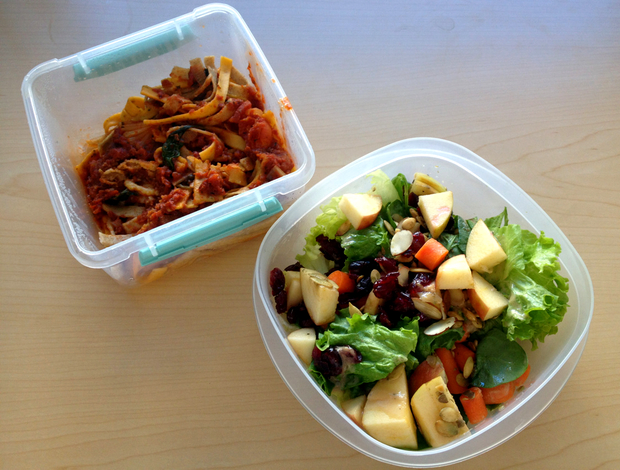 Katie: "Doug and I try to cook most nights. We always make extra for lunch the next day. Today was leftover whole wheat pasta with a tomato sauce with onion and spinach added. Since there wasn't much leftover pasta, I threw together a 'whatever's in the kitchen' salad of greens, apples, pumpkin seeds, craisins, and carrot."
Doug: "Doubling up on the recipe the night before and bringing leftovers for lunch has to be the single best way to save on food expenses and guarantee a healthy, well-balanced lunch. Today's pasta and salad were just as delicious as the night before."
Afternoon Snack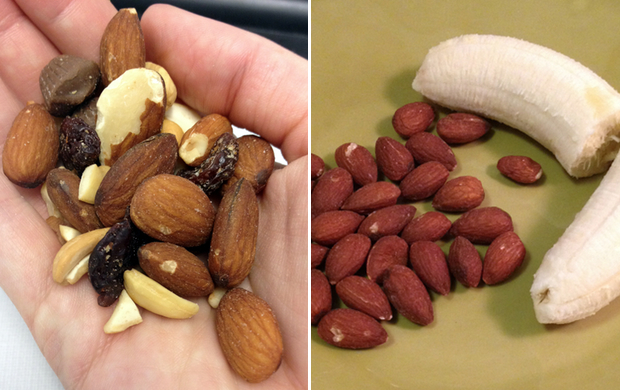 Katie: "I usually have a couple handfuls of trail mix or a granola bar before leaving work to power me through teaching or taking yoga."
Doug: "I'm not much of a snack guy during the day, but I try to refuel with something small as quickly as possible after a run. Today it was just a banana and a few handfuls of almonds."
Dinner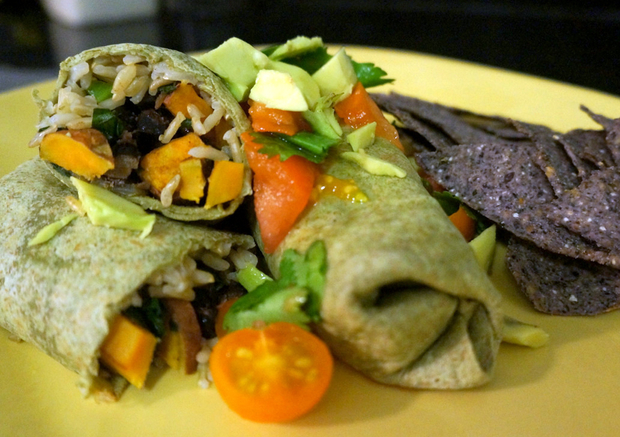 "It was burrito night in the Hay household, and tonight we stuffed spinach tortillas with brown rice, black beans, sweet potatoes, onion, garlic, and kale. Topped it off with a fresh salsa of tomato, avocado, cilantro, and lime juice, and threw a few blue corn chips on the side for good measure. That, and a nice seasonal porter from Anchor Brewery."
Dessert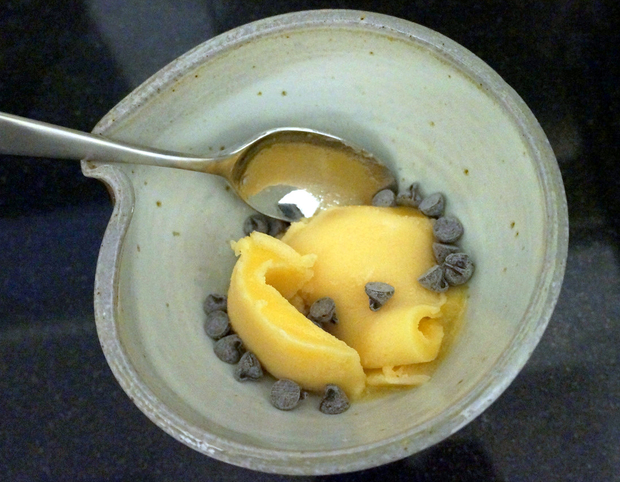 "We both have a sweet tooth. Tonight we enjoyed a few scoops of peach sorbet topped with vegan chocolate chips."
Disclaimer: The Food Diaries series is intended to be inspirational and is not an endorsement of each individual's diet.
Are you a local athlete or health, fitness, or nutrition expert with a love for food? E-mail wellbeing@washingtonian.com to find out how you could be featured in our Food Diaries series.