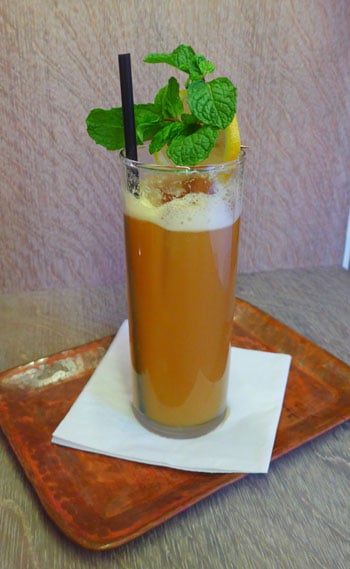 We love a refreshing Pimm's Cup on warm afternoons, but it's harder to imagine sipping the citrusy cocktail fireside. That is, until we sampled Adam Bernbach's cold-weather version at his 14th Street cocktail den, 2 Birds 1 Stone, beneath Doi Moi. Gone are the cucumber slices and ginger ale float that typically accent the classic drink, replaced by more wintery flavors like cinnamon-infused Pimm's (a type of British liqueur), spicy ginger beer, and a small dose of gin for added warmth.
Note that you'll have to start one day ahead to infuse the Pimm's with cinnamon, but like the classic cup, the rest is easy (and easy drinking).
Winter Pimm's Cup
Makes one cocktail
Ingredients
1 oz. Cinnamon-infused Pimm's (see recipe below)
1 oz. Ford's gin, or the more common Beefeater if it's not available
4 oz. Spicy ginger beer, such as Blenheim brand
A mint sprig and lemon wheel to garnish
For the cinnamon-infused Pimm's
3 Cinnamon sticks
1 Liter Pimm's liqueur
Toast the cinnamon in a dry pan over medium heat for a few minutes, until the sticks become aromatic.
Break up the sticks, and soak them overnight in the Pimm's. Remove the cinnamon.
Make the cocktail
Build the drink over ice in a Collins glass: add the Pimm's and gin, and then top with the ginger beer. Give the drink a quick stir, and garnish with the mint sprig and lemon wheel.