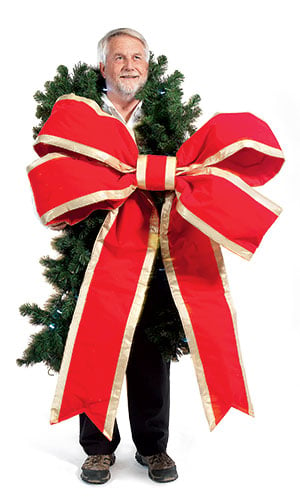 The Lights Guy: Nick Leinbach
Christmas Decor
Our average residential project is about $1,600. We're happy to come out and just do a wreath or two, but we can also do something you could see from the space station.
We do roof lighting, outdoor trees, garlands, wreaths. Stake lighting is outlining key areas such as flower beds, walkways, driveways, and entranceways with lights. It helps accentuate the house, so you really get a sense for the depth and width of the property.
Everything is on timers. We have caps that go over the top of individual lights so you can't see the string of lights connecting two bushes. In the old days, we might have to do some wiring or use additional power. But all of our lighting now is LED, which uses about one-tenth the electricity of incandescent, so you can do ten times the lights.
We start getting calls in January and February. We do about 60 homes a year.
I met with a professional football player and his wife. We presented a computer design that shows how it's going to look. They said, "What else do you have?" They have young kids and really wanted to have fun with it. It took us almost two days to put this one up. It probably was 10,000 to 15,000 lights. We had four-foot snowflakes scattered throughout the yard, eight or nine lit elves peeking out and doing things around the home. But two days after Christmas, they called and said, "You have to take it down." Neighbors were coming in the middle of the night taking pictures. There were traffic jams on their street.
At my house, I have a sign as you drive up that tells people to put their radio to a certain station. When they tune to that station, it broadcasts a carol into their car that's choreographed with my light display. It's all computer-controlled. It's fun.
• • •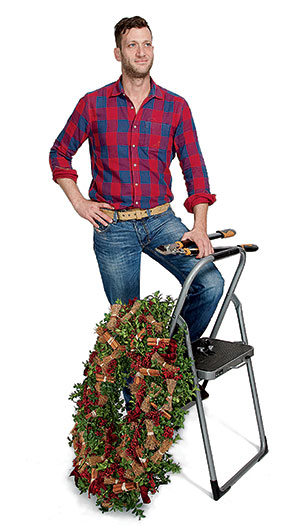 The Florist: Bill Enright
Edge Floral Event Designers
I'm a third-generation florist—I was born in a carnation box. My grandmother and mother did holiday flowers, too, but people today go crazy.
For a home, most trees we do are 10 to 12 feet tall. We buy the tree and bring it back to our studio, where we wrap it with lights. It's an all-day affair—we wrap every branch, make sure all the lights point up, and put circuit breakers in the tree. On a ten-foot tree, we'll use about 2,000 lights. In most homes, we do two trees—one in the entryway or living room and one in the family room or kitchen. Everybody wants them up the weekend after Thanksgiving.
A typical ten-foot decorated tree costs about $1,000. Most of our holiday projects range from $3,500 to $5,000.
This one lady was neurotic about lights on her tree. We actually blew her breakers because she wanted so many. She sat on the couch with a little laser pointer and would say, "A bit more there." It took four people 12 hours to put the lights on her tree. You needed sunglasses to sit in the room.
We'll pick out the ornaments and work with what the client already has. You start on the inside with the glass balls and fillers, then work out. The specialty ornaments go on the ends. And we mix in the family ornaments—we'll make sure Suzy's second-grade art project is in there, but it'll be tucked away a bit.
Nobody wants red poinsettias anymore—there are pretty ones in ivory, salmon pink, and there's a marbled variety called Monet Twilight that's popular. Outside, we do wreaths on doors and windows and garlands over doorways. Garlands are hugely expensive, but they're gorgeous.
We do tablescapes for parties—candles and containers filled with pines, amaryllis, and paperwhites. Some people have a couple parties, and we go back and refresh.
This article appears in the December 2013 issue of Washingtonian