Since launching in April with a $200,000 grant from the District, the "start-up accelerator" 1776, in downtown DC, has outpaced other local tech incubators like Acceleprise and AOL's Fishbowl Labs—1776 is currently hosting some 185 companies, with another 500 applications pending. DC's niche, it turns out, is developing high-tech solutions to policy problems, which takes more than capital.
"It's not as simple as putting the consumer app out and letting it go viral," says Donna Harris, who founded 1776 with Evan Burfield. "You need to know the regulatory environment, and strategies you can use to scale." In early 2014, the company is launching Ventures, a program to help members expand their customer base, with 1776 taking a cut of resulting profits.
Here's a look at a few tenants hoping to make it big.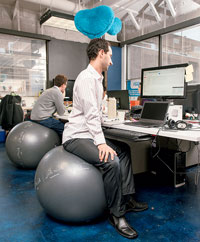 Hinge
Not everyone at 1776 is a wonk, unless you count dating wonks: Hinge's app matches users based on Facebook profiles. Having recently secured $4 million in funds, however, Hinge is moving to New York's Silicon Alley. "If this were education or health, we'd stay," CEO Justin McLeod says. "It was really useful to grow a company here." Why? In New York and San Francisco, he explains, digital hyper-sophisticates will sink you before you begin.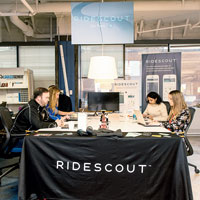 RideScout
This public-transit app founded by two West Point graduates shows users nearby Metro stations, bus lines, Capital Bike-share stations, and car-sharing companies, along with the estimated time and cost of a trip. Part of 1776's appeal was that the lights are always on. Says cofounder Joseph Kopser: "Transportation is a 24-hour, seven-day-a-week job."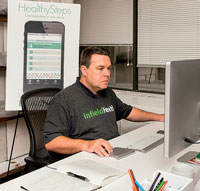 Infield Health
CEO Douglas Naegele (above)wants to demystify the confusing instructions preop patients have to follow in the hospital, using a smartphone app that reduces them to an easy checklist. Naegele and four employees will launch their app in three hospitals (though none yet in Washington). Infield Health worked out of its own space for four years, developing programs such as smoking cessation via text message, but Naegele says: "I get huge benefits from being in a room with 12 health-IT firms."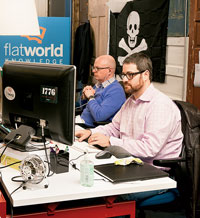 Flat World Knowledge
One of 1776's biggest tenants—with more than 30 employees and $26.2 million in funding, according to CrunchBase—Flat World Knowledge moved to Washington from New York to expand its digital college-textbook business. Now the firm—which is about to "graduate" from 1776 by moving into its own office—is branching into granting business degrees in partnership with an accredited college; courses are delivered by tablet computer.
All photographs by Andrew Propp.
This article appears in the January 2014 issue of The Washingtonian.