If you've taken a yoga class at a local studio in the last year, you've likely come across Gouter tonics and co-founder V, who spends her days running around Washington delivering the delicious drinks to fitness studios. Spend some time chatting with her and you'll quickly find out what Gouter is all about: "Educating people on the benefits of a healthy, alternative lifestyle. It's about learning how to consciously feed our bodies with clean food in order to feel energized and healthy," she says.
The former soccer player is now an avid yogi. Read on to see how she fuels in between various pitstops at fitness studios.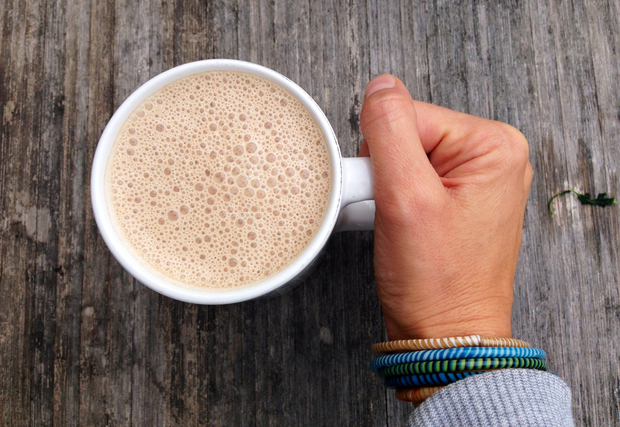 Morning drink: "I like to start off my mornings with something warm, especially when it's so cold out. We usually have a homemade almond melk in the fridge, and if not I make a quick hemp melk in the blender. I add to that cacao, spirulina, maca, mesquite, and coconut sugar. I love throwing in superfoods that will leave me feeling super energized for the day—not to mention it's quite filling as well. I also take probiotics every morning to keep my body in balance."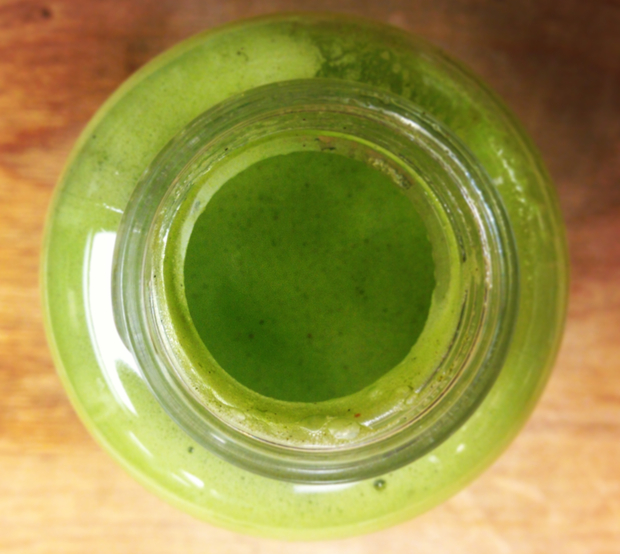 Second morning drink: "By the time I head down to our commercial kitchen to pick up the tonics for delivery, I usually grab a tonic to keep me hydrated while making deliveries. Today I was lucky and got to try our newest seasonal tonic, CranKale, which has kale, cranberry, lemon, alkaline water, cayenne, vanilla and maple sugar. It's an easy way to get your greens throughout the day and also stay fueled. Because I'm on the go a lot, and I don't like to eat in a rush, this is a perfect solution that holds me over and still allows me to get nutritional benefits."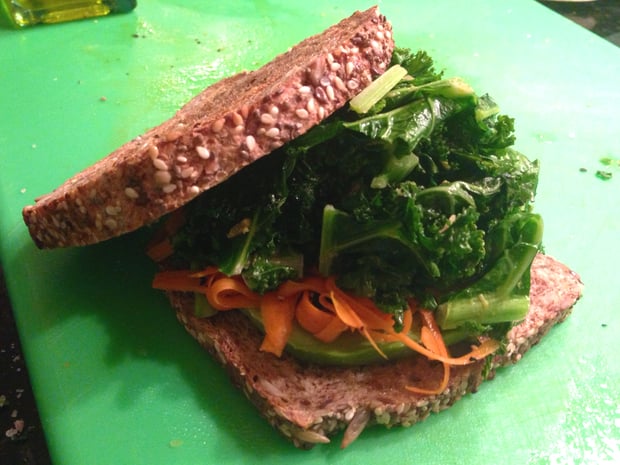 Lunch: "I always look forward to getting home in the early afternoon to make some lunch. One of the perks of having your own business is that you can eat lunch at home! I used to skip this meal, telling myself I didn't have time to sit down and enjoy something to eat. That was probably the worst thing I could have done to myself; I had no energy, was moody, cranky, less efficient, and much less productive. Now, I realize you have to make time to take care of yourself and what you're putting in your body. So for today Iwas craving a sandwich. We always have sprouted Ezekiel bread in the fridge and i sauteed some kale, peeled carrots, some extra virgin olive oil, lemon juice, nutritional yeast, toasted it and voila! So fast and simple!"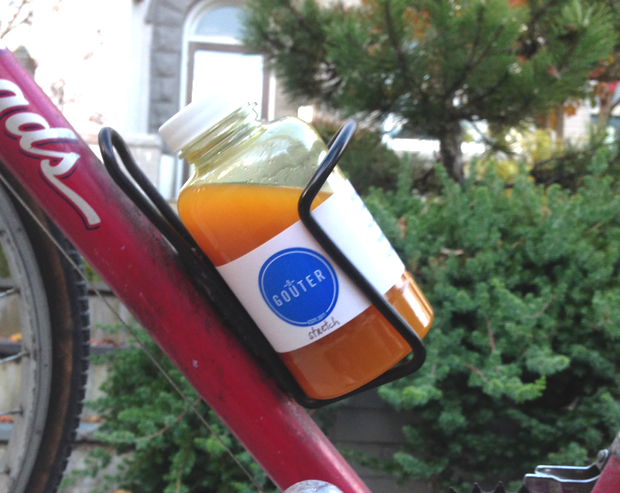 >Afternoon drink: "I try to go to yoga three to four times a week. I haven't been in awhile because of Thanksgiving and just being super busy, so today I finally made it back on the mat. It keeps me sane! I always bring a Stretch tonic with me because it has the fresh turmeric which alleviates any inflammation and helps your body recover after a workout."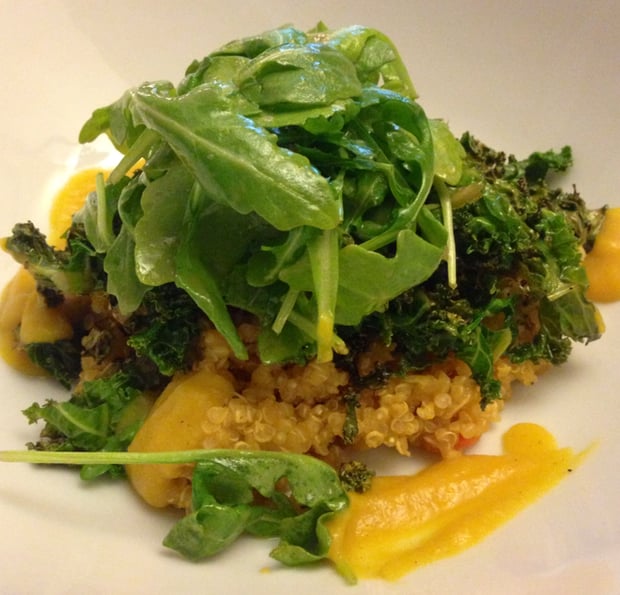 Dinner: "During the week, we always cook dinner at home. Don't laugh, but I made kale again. We happen to have a huge quantity of it and I didn't want it to go bad. I made a pot of quinoa; I usually make a big batch and use it for our daughter's lunches throughout the week. I also used leftover roasted pumpkin to make a curried sauce in the blender, sauteed some kale (again) with Braggs Liquid Aminos and sesame oil, and topped it with a simple arugula salad. We love our greens and try to incorporate them as often as we can in our meals."
Disclaimer: The Food Diaries series is intended to be inspirational and is not an endorsement of each individual's diet.
Are you a local athlete or health, fitness, or nutrition expert with a love for food? E-mail wellbeing@washingtonian.com to find out how you could be featured in our Food Diaries series.