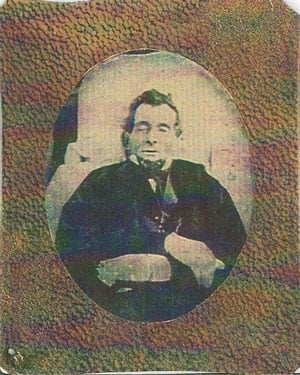 Ernestine Glessner of Martinsburg, West Virginia, was combing a flea market in Harpers Ferry a few years ago when she found what she believes is the only known deathbed portrait of Abraham Lincoln. Glessner is so convinced that after Laurie Verge, director of the Surratt House Museum in Clinton, Maryland, wrote on the museum's website in 2012, "This is no more a photo of Abe Lincoln than it is of me. Ignore her," Glessner sued Verge and the Surratt House.
Glessner says forensic experts back her claim. "Nobody has ever been able to prove to me this is not a deathbed photo of Abraham Lincoln," she says.
She's hardly the first to stake much on a personal connection to the assassination. Laura Keene, who starred in the Ford's Theatre production of Our American Cousin the night of the murder, purportedly forced her way into the President's box and cradled Lincoln's head in her lap. Preserving her blood-stained dress—even reenacting her role that night—was her obsession until her death in 1873.
"Over time it just sort of becomes your life," historian Michael W. Kauffman says of his own Lincoln fascination.
Kauffman, who owns a replica cast of Lincoln's face made months before his death—and who has had his own disputes with Verge—says, "Though an entire field of science is devoted to the measure and comparison of photographs, it ultimately comes down to one simple question: Does it look like the subject it is claimed to be? In this case, I think not."
Verge's lawyer, who declined to comment, has filed a motion to dismiss.
This article appears in the January 2014 issue of Washingtonian.