If the phrase "polar vortex" makes you want to hole up with a bottle of wine, you're not alone. And what better place to do it than in front of a toasty fire? The following bars and restaurants are stoking their hearths (or in some cases, turning on the gas) to keep you warm through the big chill.
1622 14th St., NW; 202-588-5500
Should you decide to brave the cold on this newish Spanish spot's outdoor patio, you'll find propane heaters, fur blankets, and a wood-burning fireplace.
Specials: "Social hour" includes $2-to-$3 tapas and $5 glasses of white, red, and rosé.
3282 M St., NW; 202-337-1245
Perch at the high-top table close to the gas fireplace at the Georgetown location of this beer-and-pizza spot for maximum warmth.
Specials: Happy hour from 5 to 7 includes half off all drafts, $5 appetizers, $10 small pizzas, and $16 large ones.
901 U St., NW; 202-560-5045
Two gas fireplaces in the second-floor lounge enhance the hunting-lodge aesthetic, along with plenty of tweed.
Specials: You'll find hot toddies, plus happy hour from 5 to 7 with $6 glasses of wine, $5 drafts and certain vodkas, and $4 Bud Light.
1518 K St., NW; 202-969-2858
You can slurp oysters—or a warming bowl of oyster stew—by the gas fireplace at this new downtown seafood spot.
Specials: An extensive happy hour menu includes $5 beers, wines, and cocktails, plus discounts on oysters, fried shrimp, and more.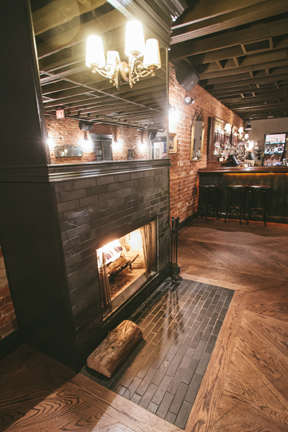 3815 Georgia Ave., NW; 202-506-2080
This French bistro already has a warm feel with its exposed brick and dark wood. The wood-burning fireplace in the middle of the room only makes it cozier.
Specials: The regular happy hour deals—$5 cocktails and $7 soups—are in effect from 5:30 to 7:30, plus $10 house hot toddies.
901 Ninth St., NW; 202-644-9433
This new Penn Quarter beer spot has plenty of brews to warm your spirits—and a built-in wall fireplace to warm your body—as well as a hearty menu with dishes such as rabbit Bolognese and slow-roasted pork collar over grits.
Specials: Happy hour from 5 to 7 includes $5 craft drafts like Tröegs Dreamweaver and $6 glasses of wine.
1734 N St., NW; 202-524-5202
You'll have to order a meal to snag a place by the wood fire in this newly refurbished historic restaurant, but you can also warm up with a Jeff Faile cocktail concoction like the Panagoulias, with ouzo and coffee liqueur. Note that lunch is à la carte, while dinner is a set menu.
713 King St., Alexandria, 703-548-1717; 2609 24th St., NW, 202-462-7171
Wood-fueled fires at both the Woodley Park and Alexandria locations of this Irish pub make cozy places to sip four types of "winter warmer" drinks, including Irish coffees and spiked cider.
Specials: Happy hour from 4 to 7 includes half-price appetizers, drafts, house cocktails, and glasses of wine.
760-C Walker Rd., Great Falls; 703-759-3309
A gas fireplaces warms the "snuggery dining room," which is just as cozy as it sounds. Bundle up and order a round of Guinness and Irish beef stew.
Specials: Happy hour from 5 to 7 includes $1 off draft beers.
1825 M St., NW; 202-785-1110
Weekend nights tend to attract the college crowd, but happy hour often draws young professionals to tables around the wood-burning fireplace.
Specials: Literally everything is half off, so go ahead and semi-splurge on a belly-warming Scotch.
1739 N St., NW; 202-833-2668
Two fireplaces in the wood-paneled lounge area make this historic Dupont spot feel even more like a hidden gem. You won't find happy hour, but stellar cocktails more than make up for it.
The Ritz-Carlton Georgetown Lobby Lounge/Degrees
3100 South St., NW; 202-912-4111
One of the swankiest fireside spots in DC is this elegant lobby, where a "s'more-elier" passes out complimentary riffs on the campfire treat to locals and tourists alike. You'll also find a new menu with drinks such as a cinnamon-infused Manhattan and ramen sliders.
Specials: Free s'mores with house-made marshmallows and Valrhona chocolate.
1226 36th St., NW; 202-337-6668
You can hole up in this Georgetown basement bar and while away the hours by the fire with a pint. More in the mood for a refined dinner? Reserve at table at the adjoining Restaurant 1789 upstairs and ask for a spot near the hearth in the dining room.
Specials: $3 craft brews from 4 to 6.