As a certified holistic health coach, Kristy LoSapio helps "busy, stressed-out women clean up their diets and lives." When she's not helping others lose weight, eat healthy, or sleep better, she's managing her own stress by working out regularly. "I get bored easily with working out, so I typically take a variety of classes during the week," she says. Read on to see how the health coach ate on a day that began with a morning cardio and strength-training session at the gym.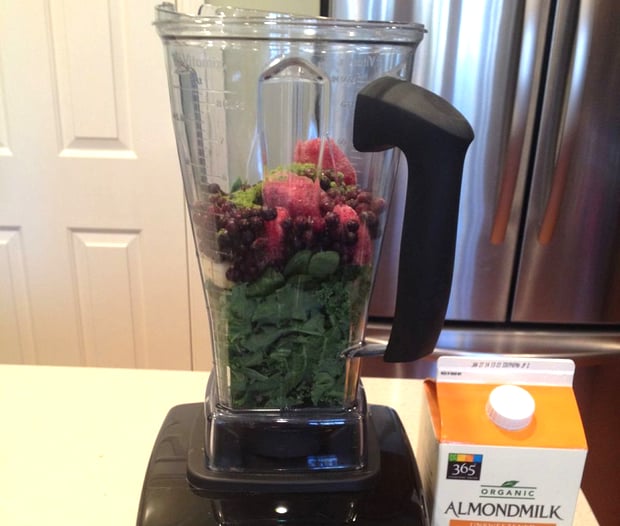 Breakfast: "I start every day with a green smoothie. My typical smoothie has kale, spinach, half a frozen banana, frozen strawberries, frozen blueberries, matcha powder, chia powder, and unsweetened almond milk. Once it's blended, it's not so green, however; it's unappetizing-looking, but it tastes great and makes me feel amazing. Sometimes I add almond butter for fat and protein to help keep me full, but today I had a side of two turkey sausages instead."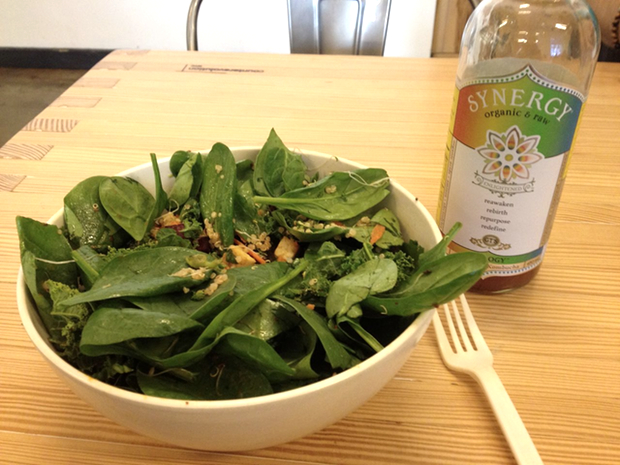 Lunch: "I had a client meeting near Reston Town Center, so I stopped by Sweetgreen for my favorite salad there, the Spicy Sabzi. It has kale, baby spinach, raw beets, raw carrots, sprouts, spicy broccoli, basil, roasted tofu, and quinoa with a dash of Sriracha and carrot-chili vinaigrette. I had a bottle of kombucha with me, so I had that as my drink with lunch."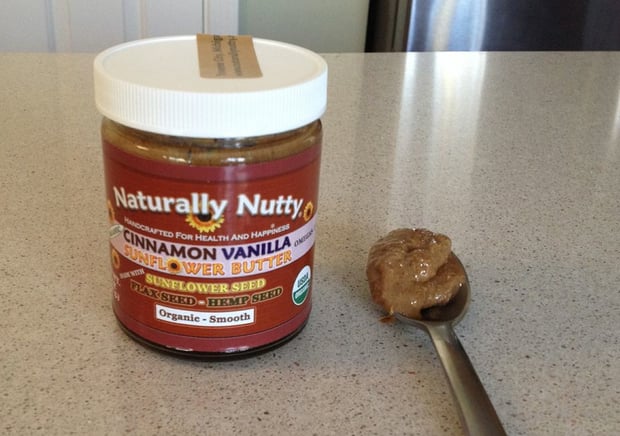 Snack 1: "Shortly after I got home, I was still a bit hungry, so I had a spoonful of cinnamon-vanilla sunflower butter that also has flax and hemp seed in it."
Snack 2: "Later in the afternoon, I had a cup of green tea and some 'raw chunks of energy' snacks that I get at Mom's Organic Market in Herndon. They are made from dates, sesame seeds, cashews, coconut, cocoa butter, raisins, apricots, and chia seeds."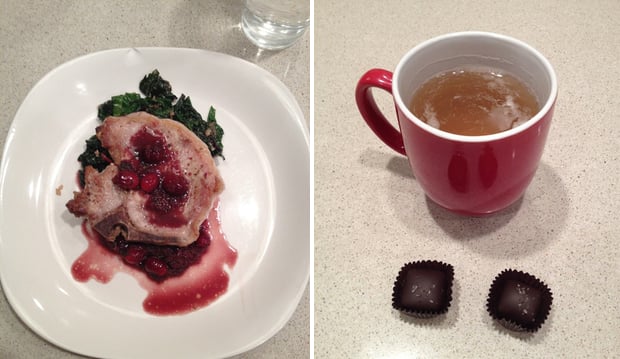 Dinner: "For dinner tonight I made pan-roasted pork chops with cranberries and rainbow chard. I always drink filtered water or Pellegrino with dinner."
Dessert: "I don't typically eat dessert, but since it's the holidays we are getting gifts in the mail from business partners. These dark chocolate salted caramels showed up today, and I had to have some. I had another cup of green tea with them."
Disclaimer: The Food Diaries series is intended to be inspirational and is not an endorsement of each individual's diet.
Are you a local health, fitness, or nutrition expert with a love for food? E-mail wellbeing@washingtonian.com to find out how you could be featured in our series.