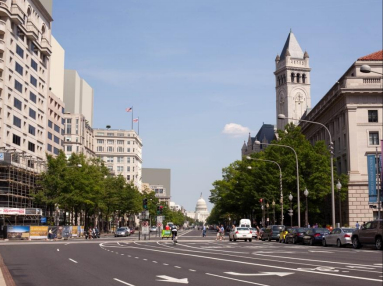 Despite a growing population and rising cost of housing, a large majority of District residents oppose making changes to the Height Act, the 1910 federal law that restricts how tall the city's buildings can climb, according to a Washington Post poll released Wednesday night.
Sixty-three percent of registered voters surveyed say the height limits should remain intact, a blow to Mayor Vince Gray's administration and smart-growth enthusiasts who are pushing for modifications to the century-old law.
Moreover, every individual demographic group shows a preference for keeping the Height Act unaltered, revealing an overwhelming preference for keeping a squat skyline that preserves sweeping views of cherished monuments but is increasingly seen as potentially pushing out lower- and middle-income residents as housing demand increases.
House Oversight Chairman Darrell Issa, a California Republican, convened a hearing last month on two competing proposals about the Height Act. The one submitted by DC Planning Director Harriet Tregoning, which calls for modest increases in building height limits in the historic downtown L'Enfant City and no caps in a few designated areas further out, predicts the District will need between 157 million 317 million square feet of new developed space by 2040, most of it to accommodate a projected 99,000 additional households. A competing report by the National Capital Planning Commission proposes leaving the Height Act nearly entirely unchanged.
The results of the Post's poll are hardly surprising. Tregoning's proposal has been unpopular even with her own government. Twelve of the 13 members of the DC Council recently voted for a resolution opposing changes to the Height Act, with only Marion Barry voting against.
But support for the Height Act is softest in the mayor-for-life's part of town. Among people surveyed in Wards 7 and 8, which contain DC's poorest neighborhoods, 40 percent support allowing taller buildings. The Height Act also loses support in lower income brackets; 37 percent of people making more than $50,000 would change it, while that figure increases to 41 percent among people making less than $50,000.
Not surprisingly, the Height Act is most popular where the views are the best, with 67 percent of people in Wards 2 and 3—which include Georgetown, Cleveland Park, and Friendship Heights—opposing any modifications to the law.
But the biggest blow in the Post's poll for people who want to modify the Height Act might be the phrasing of the question itself. "Do you think DC should keep its existing height limits or allow taller buildings to be built?" the poll asks. While this gets the pulse of how people feel about the prospect of 200-foot-tall buildings on Pennsylvania Ave., Issa's committee is not determining what changes should be made to the Height Act, but rather who should be making any changes. Currently, the power lies with Congress.
Had the Post asked people if they support the District exerting more direct control over its own skyline, the results might have been much different.