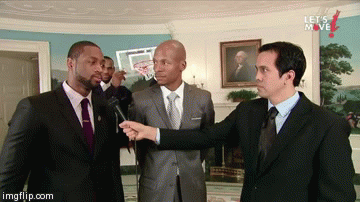 During their visit to the White House last week to celebrate their latest NBA title, the stars of the Miami Heat filmed a video with Michelle Obama to promote her Let's Move youth fitness initiative. The video, featuring LeBron James, Dwayne Wade, Chris Bosh, Ray Allen, and Heat coach Erik Spoelstra, promotes refreshing oneself with healthy snacks and lots of water.
At the end of the video, though, as Spoelstra is chatting with Wade and Allen, James holds up a basketball hoop in the background for Obama to pull off a dunk. No, it's not regulation, but it's still the first recorded slam dunk by a sitting First Lady. And now you can watch it over and over again in one convenient GIF.
Here's the full video, if you want to watch Spoelstra awkwardly interview his own players.