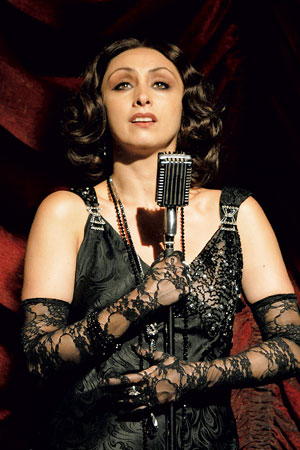 Natascia Diaz may be a New Yorker, but she's found her artistic home in Washington. The two-time Helen Hayes Award winner—who has appeared in productions at Signature Theatre, Wolf Trap, Shakespeare Theatre Company, and Arena Stage, among others—performs in two solo shows January 25 at Strathmore.
Born in Switzerland to Puerto Rican opera singer Justino Diaz and Italian ballerina Anna Aragno, she was raised in New York City. Her first Broadway role was in 1994, alongside Taye Diggs and Audra McDonald in Carousel; in 2002, she was in Man of La Mancha, starring Brian Stokes Mitchell. She made her local debut in 2001 at Arena playing Elektra in Agamemnon and His Daughters, and the following year she was in A Little Night Music as part of the Kennedy Center's Sondheim celebration. Says Diaz: "That was when I really said, 'My God, I could live here.' "
Since then, she has split her time between Washington and New York, but she prefers Washington, where she says actors have the opportunity to be noticed and "sought out." She caught the eye of Signature associate artistic director Matthew Gardiner, who left pictures of her all over his boss Eric Schaeffer's desk until Schaeffer cast her in 2008's Kiss of the Spider Woman. (Variety called her performance "beguiling.")
In the Strathmore shows, Diaz is showcasing the artistic diversity she learned from her parents, performing songs from Bye Bye Birdie, Cabaret, and Next to Normal as well as pieces by Jacques Brel and others. It was for her role in MetroStage's Jacques Brel Is Alive and Well and Living in Paris that she won her second Hayes Award this year—another affirmation of her work locally. "You're able to have a foothold here, and your experiences allow your work to build on itself," she says. "Being in Washington has opened the door to the kind of theater and the kind of work that I want to spend my time on."
Tickets ($35) at strathmore.org.
This article appears in the January 2014 issue of Washingtonian.