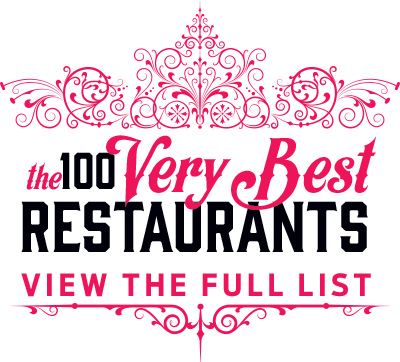 This clean-lined dining room has always striven to satisfy many tastes—and eclectic menus are nothing new—but it's still an exciting surprise to find a kitchen that pulls off buttermilk fried chicken as well as it does a filet of rare yellowfin tuna with cilantro and a pupusa. But before you get to that, focus on the raw seafood, which owners Jeff and Barbara Black—who have even custom-bred their own Virginia oysters—excel at in each of their six restaurants. One nice way to sample them: the shareable shellfish platter, which shows off well-shucked bivalves alongside plump shrimp and sweet littleneck clams. Wood-grilled meats—hanger steak with chimichurri, duck breast with orange/green-peppercorn sauce—are the menu's other sure bets. If we have one wish, it's that the desserts would lean toward the homespun rather than the deconstructed. (A pile of crumbles hardly counts as Key-lime pie.)
Open: Monday through Saturday for lunch and dinner, Sunday for brunch and dinner.
Don't Miss: Cornbread with honey butter; shrimp-and-avocado salad; fried oysters; mussels with shallots, tomato, and parsley or Thai-style broth; seafood stew; grilled Duroc pork chop; banana cream tart; Rock Rose cocktail, with gin, mint, and a strawberry shrub.
---