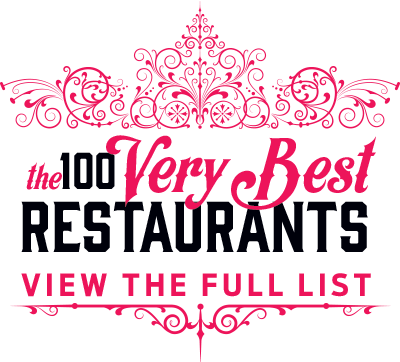 Evidently it wasn't enough for chef Barry Koslow and co-owners David and Nick Wiseman to have given Washington its first legitimate deli in a generation. The new, improved pastrami sandwich makes clear their intention to compete with the legendary Schwartz's in Montreal. The meat (grass-fed beef smoked, spiced, and sliced thickly) is softer and more luscious, layered more generously between slices of excellent twice-baked rye, and smeared with a zesty, from-scratch mustard. Meat isn't the only matter. The chopped liver (festooned with crunchy panes of chicken skin for dipping) is superlative, the matzo-ball soup is shockingly elegant, and the teiglach, Hungarian doughnuts massed in a cast-iron pan and drizzled with honey, is one of the better desserts around. It's a shame that the two-level space lacks the same warmth and character as the food, making lunch a more pleasurable experience than dinner. Then again, that pastrami is so transporting, you might not care where you are.
Open: Monday through Friday for lunch and dinner, Saturday and Sunday for brunch and dinner.
Don't Miss: Shakshouka, poached eggs with tomato-and-red-pepper stew; stuffed cabbage; "everything" chicken-salad sandwich; cheesecake.
---