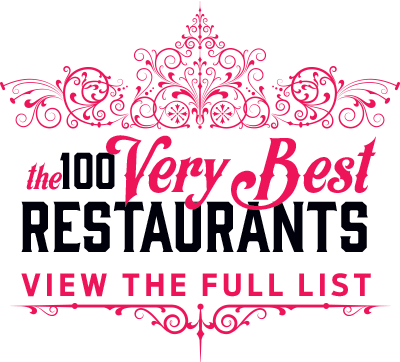 Strip-mall restaurants where the average check hovers around $50 for two are rare on a list like this. Which just goes to show what Emma Perez has accomplished here. A passionate restaurateur, she hasn't let the limitations of her space deter her from putting forth a meal that delivers the breadth, color, and excitement of her native Peru's cooking. A strong Pisco sour is the most pleasing way to kick things off, paired with either a ceviche—a parfait glass teeming with lime-marinated fish, shrimp, and onions—or a tiradito, which applies to a filet of tilapia that same technique of using citric acid to cook a dish; the sweet, white fish is fanned out like a flower atop a spicy yellow-pepper sauce. The best of these plates combine the comfort and soulfulness of a home-cooked meal with the smart, attentive details of a pedigreed restaurant, perhaps nowhere as memorably as in a crispy, head-on trout with slivers of fried garlic and superb oiled rice.
Open: Daily for lunch and dinner.
Don't Miss: Anticuchos, grilled beef hearts; aji de gallina, chicken in an egg-and-white-wine sauce; causa, tuna layered with potato; lomo saltado, strips of marinated beef, tomatoes, and onions served over fries; alfajores, shortbread-and-caramel cookies; lucuma (a subtropical fruit) ice cream.
---