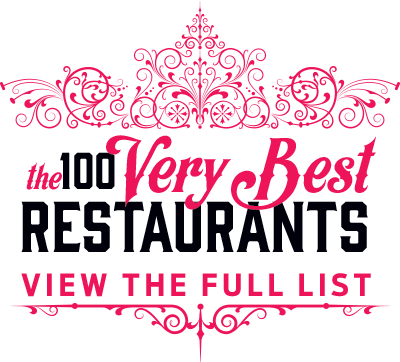 Mark Kuller's Spain-inspired small-plates restaurant is a bit easier to get into these days—but only because the blocks around it became even more crammed with restaurants in the past year. That's fine with us, because we never liked waiting two hours (the place doesn't take reservations after 6 pm for parties of fewer than six) to get our fix of gin-spiked "slushitos" and toothpick-speared nibbles of Manchego with membrillo. And besides, chef Haidar Karoum's kitchen is as strong and consistent as ever, turning out hanger steaks and squid smoky from the plancha, crisp ham croquetas silky with béchamel, and fabulous curry-spiced grilled chicken with cilantro rice. You can drink as well as you eat, thanks to cocktail master Adam Bernbach, who gets creative with Cava and sherry and mixes some of the area's best gin-and-tonics.
Open: Monday through Thursday for dinner, Friday for lunch and dinner, Saturday and Sunday for brunch and dinner.
Don't miss: Green-bean salad with goat cheese; pork-belly sandwich; Manchego burger (brunch only); Manchego cheesecake.

---