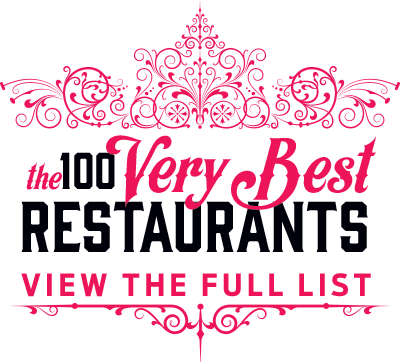 Lest you have sticker shock when opening a menu at this Alsatian cottage, know that a $75 or $80 entrée here is actually a "complete meal," which includes an appetizer, salad, palate-cleansing sorbet, and dessert. It's a style of ordering that has been out of fashion for many years, but the beauty of this flowery dining room is that things haven't changed in a long time. Those raspberry-and-Champagne aperitifs, gratis garlicky toasts with cottage cheese, and chocolate soufflés are the same as the ones served decades ago, and the fact that the place still manages to feel exciting is a testament to Jacques Haeringer, the chef/owner who took over the restaurant from his late father, François. The main dining room is filled with dressy diners who are often clinking glasses to birthdays or anniversaries; the downstairs brasserie is more laid-back and doesn't require reservations.
L'Auberge Open: Tuesday through Sunday for lunch and dinner.
Jacques' Open: Tuesday through Sunday for dinner.
Don't Miss: Bacon-and-onion tart; mushroom crepe; oysters on the half shell; Roquefort-cheese salad; Caesar salad; seafood in a Champagne-lobster sauce; lobster with Sauternes butter; brioche-crusted halibut with ginger-lime sauce; choucroute garnie, a selection of sausages and meats over sauerkraut; Grand Marnier soufflé; baked Alaska.
---