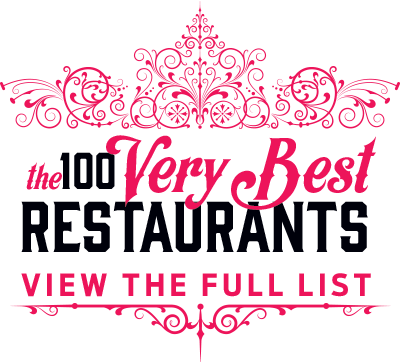 Passion Food Hospitality's showy, white-on-white dining room in Reston Town Center combines classic American seafood dishes-shrimp cocktail, a tiered shellfish tower—with internationally influenced creations like maki rolls and Peruvian-style ceviche. Every meal here should start with a sampling from the raw bar's selection of oysters and clams. When it comes to more substantial plates, the lobster hot pot—with tender chunks of claw and tail meat along with pineapple and peppers in a creamy red curry—remains the best dish on the menu. But we also love the unorthodox, jumbo-size Dynamite Roll—yellowfin tuna and avocado wrapped in seaweed and sushi rice and drizzled with a Thousand Island-like sauce.
Open: Monday through Friday for lunch and dinner, Saturday and Sunday for dinner.
Don't Miss: Kumamoto oysters; Kung Pao calamari; crabcakes; Captain Crunch roll, with tempura-fried shrimp, tiger shrimp, cucumber, and avocado; peach and berry crisp.
---