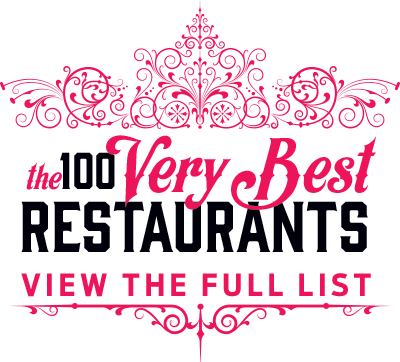 The food at the Penn Quarter location of Ashok Bajaj's modern Indian hit maintains an edge over its younger sibling in DC's West End, but both put out some seriously delicious dishes. Begin with the justifiably famous palak chaatappetizer—crispy spinach topped with sweet yogurt, tamarind, and date chutney.
In Penn Quarter, try the velvety black cod marinated in honey, dill, star anise, and vinegar. A similar preparation at the West End restaurant had a drier texture; we preferred the plump shrimp bobbing in a Kerala-style curry resplendent with cumin and coconut. A disappointment at both: the bread basket. Once-pillowy naan felt thick and heavy, and the pungent mint paratha wasn't the bright accompaniment we remembered.
Open: Monday through Friday for lunch and dinner, Saturday for dinner.
Don't miss: Pork chop vindaloo; scallops moilee, with ginger, green chilies, and coconut milk; chicken tikka masala; tandoori lamb chops; dal makhani; goat-cheese-stuffed kulcha.
---