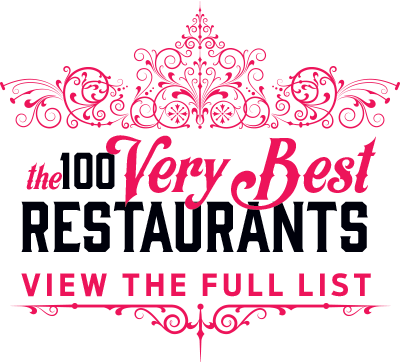 Let's get the negatives out of the way, shall we? The dining room is cramped when it's busy, which is almost always, and service is iffy. Still, the rewards—in the form of a bubbling clay pot of juicy caramel pork ribs or a bowl of grilled, beef-stuffed grape leaves—are ample. The menu, in its bid to encompass the cooking of every major region of Vietnam, can be daunting (19 pages!) but the kitchen is well versed in every category and classic dishes are rendered with the same care as more modern interpretations, such as spare ribs perfumed with lemongrass and roasted to a burnished red.
Open: Daily for lunch and dinner.
Don't Miss: Vermicelli with grilled pork, shrimp, and fresh herbs; bun cha, vermicelli with lemongrass-marinated pork, crushed peanuts, and fish sauce; baked chicken with yellow rice; fried tofu with lemongrass; deep-fried "rocket shrimp"; fresh-squeezed lemonade with club soda; iced Vietnamese coffee.
---