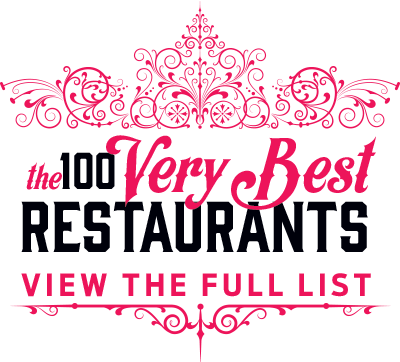 Not hot enough. Too sweet. These are oft-heard laments among Thai-food fans, who despair of the watered-down tendencies of many kitchens. They would have little to carp about at Krisana Suchotinunt's strip-mall stalwart, which brings the heat and eschews the sweet. Even better is that it conveys the exciting breadth of flavors of the cuisine in dishes that pop and ping. The Yum Watercress Salad is the signature dish and presumably the envy of every Thai restaurant in town, a lacy fritto misto of greens, onions, shrimp, and cashews. (A vegetarian version with tofu is just as excellent.) More-familiar dishes are distinguished by the kitchen's gift for stacking flavors and textures. Hunks of fried duck, perfumed with basil, crunch like cracklings. A whole fried fish, delicate inside, crispy outside, is the perfect foil for hot and creamy red curry.
Open: Monday through Saturday for lunch and dinner, Sunday for dinner.
Don't Miss: Larb, a minced-chicken salad; moo ping, grilled pork skewers; grilled beef with lime, onion, and rice powder; mussels with black beans.
---