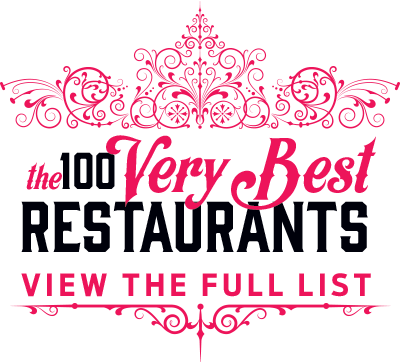 In the food world these days, talk of conservative versus progressive is as heated as in the political world, and there are nearly as many misjudgments. It would be easy to assign this bland dining room—with starchy, by-the-book service—to the uninspired ranks of the former, but look again. That poached fluke is as perfectly treated as any piece of fish you'll find. The seared duck isn't just a signal example of cooking expertise—crisp, salty skin; tender, juicy meat—but also a dish of imagination: Pungent, lightly spicy onion kimchee is an unexpected dance partner and is typical of executive chef (and Jean-Georges Vongerichten disciple) Tony Conte's penchant for infusing his dishes with Asian accents. So, then: a quiet progressive or a conservative with an independent streak? Either way, the Oval Room brims with rewards.
Open: Monday through Friday for lunch and dinner, Saturday for dinner.
Don't Miss: Chilled pea soup; beet salad; ricotta dumplings; sweet-potato agnolotti; steamed black bass with potatoes; ember-roasted pork chop.
---