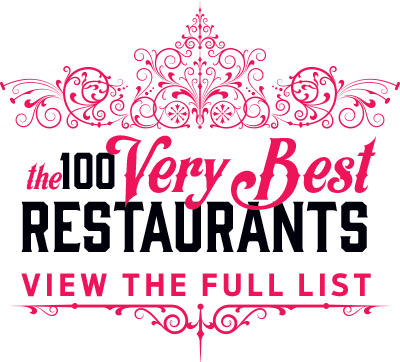 When Tony Chittum, one of the most underrated chefs on the local food scene, departed Vermilion last February to relaunch Dupont Circle's Iron Gate for the Neighborhood Restaurant Group, it seemed an immeasurable loss for this stately Old Town dining room. But new chef William Morris's transition has been seamless. Vermilion remains a local-lover's paradise, a place to savor the bounties of the Chesapeake and Shenandoah. The obvious commitment to farmers notwithstanding, the message never tilts into sanctimony and fine dining has rarely seemed less pretentious. Morris, like Chittum, rides the line between rootsiness and refinement, and he's similarly gifted with soups—a roasted-garlic version tastes one moment like a liquefied roast chicken and another like an elegant chowder—and salads. Tiffany MacIsaac curates the dessert menu, and she can make you feel like a kid with her plate of cookies and popcorn ice cream.
Open: Monday and Wednesday through Friday for lunch and dinner, Tuesday for dinner, Saturday and Sunday for brunch and dinner.
Don't Miss: Beet-and-apple salad; crispy veal sweetbreads; charred octopus with smoked-ham broth; lamb with eggplant purée; tagliatelle with roasted cauliflower and broccoli rabe; s'more brownie sundae; goat-cheese cheesecake; ricotta/poppy-seed fritters.
---