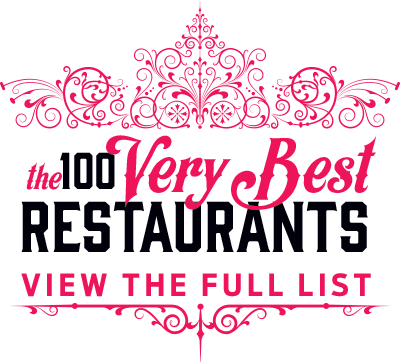 The fish burger—a panko-crusted patty on an olive-oil roll slathered with saffron aïoli—has long been the bellwether dish for the sleek-lined restaurant in the West End's Ritz-Carlton hotel. Creator Eric Ripert severed his relationship with the bistro in 2012, but the sandwich tastes just as wonderful under the auspices of current chef Devin Bozkaya. The rest of the menu has fared well, too: Try glistening, tuna carpaccio, topped with chives and shallots and dashed with olive oil and lemon, or sweet-corn soup drizzled with cilantro oil. When nothing but homespun roast chicken will do, Bozkaya's tender version, served over slow-cooked vegetables and a rich celery-root purée, will satisfy your craving.
Open: Monday through Friday for lunch and dinner, Saturday and Sunday for dinner.
Don't Miss: Salad of mustard greens and Pink Lady apples; mac and cheese with country ham; pan-roasted duck breast with smoked honey, walnuts, and golden raisins; olive-oil/poppy-seed cake with orange cream.
---