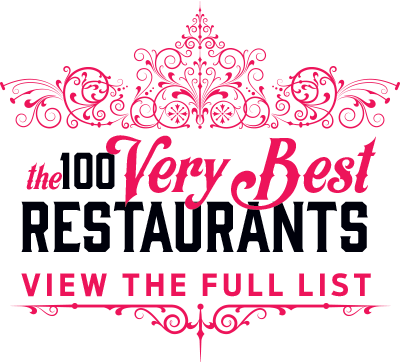 The mezze at José Andrés's white-and-blue Penn Quarter restaurant remain as crave-worthy as ever. It's hard to imagine a meal here that doesn't begin with swiping puffy pita bread through velvety baba ghanoush topped with pomegranate seeds, or tzatziki that's fragrant with dill. But the beauty of this expansive menu—inspired by Greece, Turkey, and Lebanon—is that experimentation is nearly always rewarded.
From a hunk of seared haloumi cheese with oranges and dates to pearls of couscous blanketed in earthy mushrooms, this is a small-plates menu that justifies the genre. Good as the food is, don't forget to pay attention to what's in your glass. Cocktails such as the Harissa Fizz—with tequila, harissa, and lemon soda—lend a festive feel to dinner.
Open: Monday through Friday for lunch and dinner, Saturday and Sunday for brunch and dinner.
Don't miss: Grilled octopus with yellow-split-pea purée; avgolemono soup; Brussels sprouts with garlic yogurt; potato-crusted snail kibbeh; meatballs; Turkish Delight sundae; semolina custard with apple sorbet.

---