Ah, Valentine's Day—or should we say, "$75-set-menu day." For those hoping to spend less—or at least entertain the option of spending less—we've found plenty of comparatively inexpensive options, whether you want to impress a date or keep things more casual.
Find cheap—but not cheap-looking—eats
Just because an eatery makes our Cheap Eats list doesn't mean you'll dine in a dive; there are plenty of atmospheric options. We especially like the low lighting and sleek decor of Bangkok 54 in Arlington, the warm-hued, chandelier-lit dining room at Bethesda's Passage to India, and the deep booths at Bamian in Falls Church. If you're Eden Center-bound, Rice Paper has a pleasant ambience, and you can head to Bambu after for a sweet fix. Back in DC, Ethiopic on H Street boasts a romantic interior with exposed brick and glowing lights, a decent wine list, and live piano music.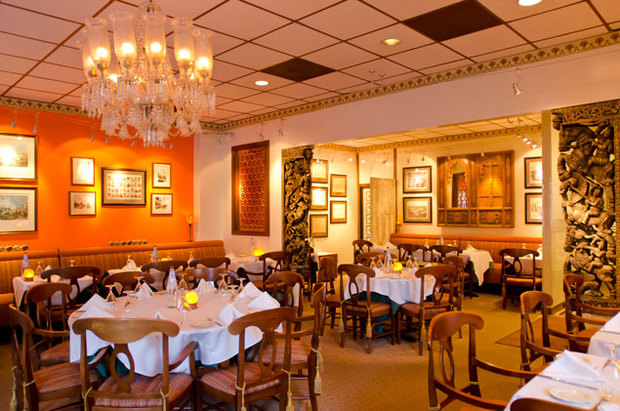 Order à la carte
A number of our favorite restaurants are sticking to their regular menus, including a handful of the top 25 Very Best. They may not be cheap spots, per se, but at least you can pick consciously without immediately committing to $100 per person. We like the idea of ordering the decadent pastas at Osteria Morini, opting for à-la-carte offerings at Graffiato or Del Campo (prix-fixe is also available), snacking on small plates at Etto, or digging into the bread-pudding soufflé at Food Wine & Co.. Also consider snagging a reservation at a restaurant that doesn't typically take them, such as Pearl Dive, Estadio, and Hank's Oyster Bar.
Pick a moderate prix-fixe
Not all set menus will burn your wallet. DGS Delicatessen offers an all-you-can-eat deal for just $30 per person, which includes bottomless platters of pastrami, corned beef, chicken sausage, sides, and more, plus $5 drafts and $8 martinis. Other moderate options: three courses at Bastille for $38, Eatonville for $29, and Le Grenier for $39, or a five-course meal at Daikaya for $45.
Head to the bar
We love the growing trend of casual bars with restaurant-quality food, perfect for a V-Day date. Shaw has an abundance, including Derek Brown's trifecta of Mockingbird Hill, Southern Efficiency, and Eat the Rich, as well as Baby Wale, which offers a roast chicken for two. Others to keep in mind: Quench Rockville, Union Market spots such as Rappahannock Oyster Bar, and Fainting Goat on U Street. A number of restaurants offering pricier set menus also keep it casual in the bar area on February 14—try Bourbon Steak's lounge, the Source (sushi only), and PassionFish.
Or drink your dinner
If your honey is more of a cocktail enthusiast, consider making a reservation at the Gibson for "couples cocktails": two full drinks each and a third cocktail for $24 (we like the sound of a mezcal-based Part-Time Lover). Over at Cafe Saint-Ex you'll find bottled cocktails that come with two straws for $14, to pair with $9 cheese or chocolate fondue. Trummer's on Main channels Fifty Shades of Grey with the Pain & Pleasure cocktail, served with a whip; sip it solo, or try it in a four-cocktail tasting alongside snacks on Thursday, February 13 ($39 per person).
Give your date (guilty) pleasure
V-Day dining is about indulgence, so crispy fried chicken could fit the bill just as well as foie gras. Some of our guilty pleasures: BonChon, the Hell Burger at Ray's to the Third, Le Diplomate's "burger Americain"—available for takeout—and a feast of way too much food at Bangkok Golden. Shake Shack is also up there, offering an on-theme passionfruit custard special for the holiday that comes with a coupon for a second free cup or cone.