Glen Marsocci owns enough furniture to fill 20 houses. An obsessive collector of Ikea sofas? Not exactly. Marsocci is a stager, which means his job is to refurnish, redecorate, and reorganize homes so they sell fast—and for the highest possible price. "Days on market is really important, so you want it to be the best it can be on day one," says area real-estate agent Margaret Babbington.
Stagers know that home-buying isn't all about logic and numbers. Agent Diana Hart says professional staging works because it helps would-be buyers connect to the space—you'll never see family photographs or quirky touches like bright-purple paint, so buyers are better able to picture themselves moving in. "The emotional response is what we want to get right," broker Donna Evers says.
According to Marsocci, the goal is to attract enough potential buyers that you spark a bidding war: "That's the holy grail." As such, staged homes almost always hit clear aesthetic hallmarks: clean, simple lines; sparse furnishings to make rooms look bigger; bright pops of color sprinkled among neutral hues. A Crate & Barrel vibe on an Ikea budget. "When you're staging a home, you have to err on the vanilla side," Marsocci says. "It is not going to push any boundaries."
In a hot market like Washington's, in which a lot of homes are selling quickly anyway, is staging necessary? Marsocci estimates that his work typically brings in at least double the homeowner's investment. (Most of his projects cost $2,000 to $3,500.) The data backs him up: According to a 2013 survey by the International Association of Home Staging Professionals, staged homes in Washington sold in eight days for 3.2 percent above asking price, while unstaged ones sold in 44 days for 97.5 percent of asking price.
Here's a look inside a Silver Spring home that Marsocci recently staged, including expert tips on how to make a home market-ready.
Living Room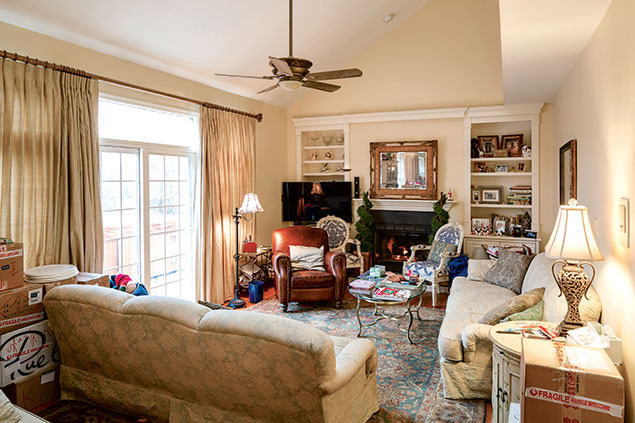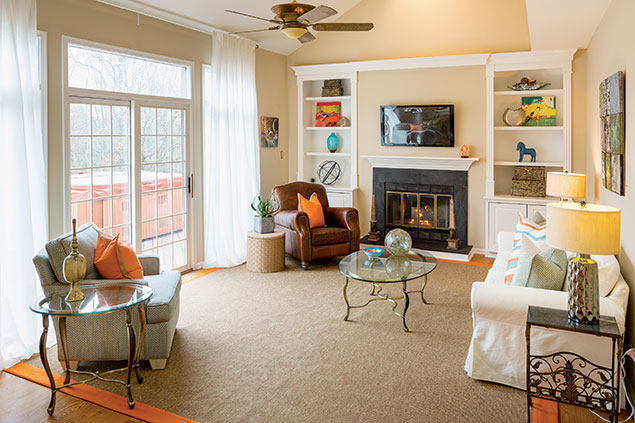 +Tip It might sound boring, but paint the whole house the same neutral hue—it will make it look bigger. Glen Marsocci swears by Benjamin Moore Temporal Spirit on walls and White Dove on trims.
+Tip Marsocci suggests adding new hardware and light fixtures in bathrooms and kitchens: "If you see the consistency of new doorknobs, it's going to make the whole house look newer. You're really quickly changing the perception."
One windowpane had a blown seal, so it always looked foggy. These $13 Ikea drapes help conceal the flaw. Says Marsocci: "If you can't fix it, disguise it."
The room's built-in bookcases, originally a soft ivory, were painted a crisp white to make them pop out from the soft-beige walls. Marsocci then replaced family photos and other clutter with a few eye-catching pieces such as vases and artwork.
The television is fake. Marscocci took down the owners' real TV—an oversize model that sat on and jutted out from the bookcase on the left—and replaced it with this faux flat-screen to create a more modern-looking setup.
The brown leather chair and glass accent tables belong to the owner. But the rug, herringbone armchair, white sofa, and other accents are all Marsocci's—either from his warehouse or new for this project. He spends about four mornings a month scouring stores such as Ikea, HomeGoods, and Value City in search of bargains.
Bedroom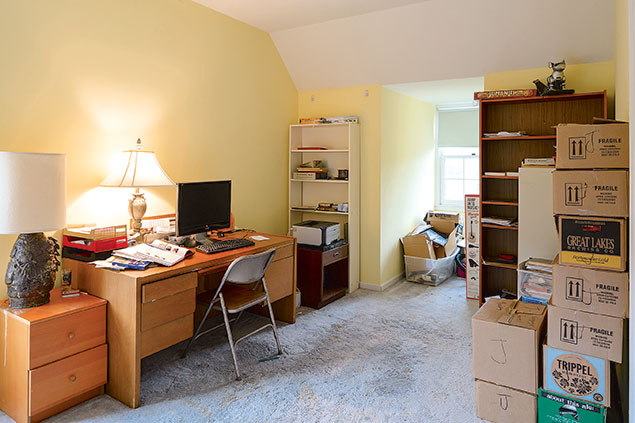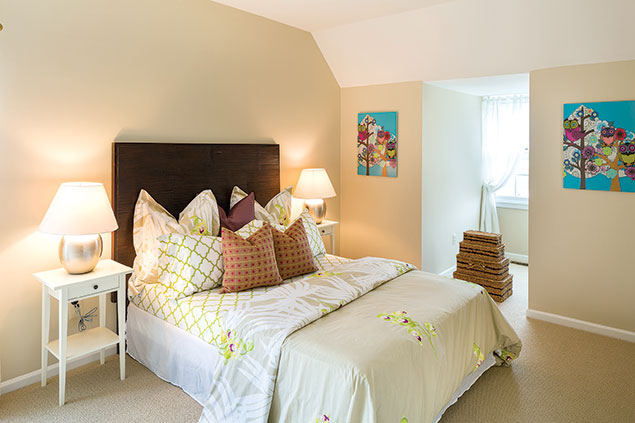 After recarpeting and painting, Marsocci transformed the home office at bottom into a bedroom—a quick change that tacks on about $25,000 to a home's market value: "If you can call a room a bedroom and it's legal—meaning it has two forms of egress and a closet—it should always be a bedroom, even if it's a shoebox. It's a moneymaker."
+Tip Make sure closets are only half full. "Full closets tell people you need more storage," Marsocci says.
Foyer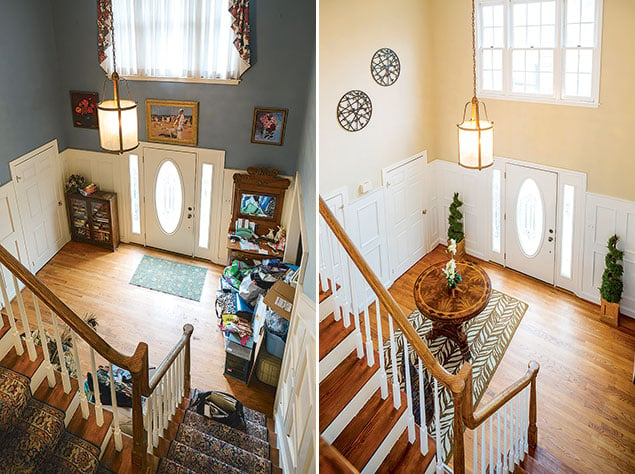 To accentuate the architectural details of the two-story entryway, Marsocci added a coat of neutral paint to the walls and cleared out the clutter. The only piece of furniture is a $4,000 Maitland-Smith wooden table he snagged for $299 from the discount furniture outlet Green Front. The window treatments? Gone. "Dated window treatments are not going to help you," Marsocci says. "It's better to see nothing."
Photographs by Dan Chung. This article appears in the February 2014 issue of Washingtonian.