Federal authorities in DC announced that 25 people are being charged with fleecing local and federal taxpayers out of millions of dollars in what officials say is the biggest Medicaid fraud scheme in the District's history. Among the people arrested this morning are operators of home health-care agencies and personal-care assistants who allegedly cooked up phony Medicaid cases to lavish themselves with cash, homes, and luxury vehicles.
Medicaid, 70 percent of which is funded by the federal government, is the District's largest single expenditure. But while enrollment has remained level since 2006, US Attorney Ron Machen said at a press conference Thursday, the number of claims has quadrupled, a growth spurt he says is rooted in crime.
"We have seen an explosion in claims," Machen said, "mostly due to fraud."
The 25, who are being charged in District and federal court, constituted several small alleged rings of fraudsters. Machen, joined by officials from the FBI and the Department of Health and Human Services, said the schemes often began with recruiters who coached recipients to play up the severity of their illnesses and file false timesheets to direct more money to home health-care aides and the companies that employed them. Thirteen of the people arrested worked as personal-care assistants. Machen said the investigation is continuing, but so far has not targeted any other medical professionals.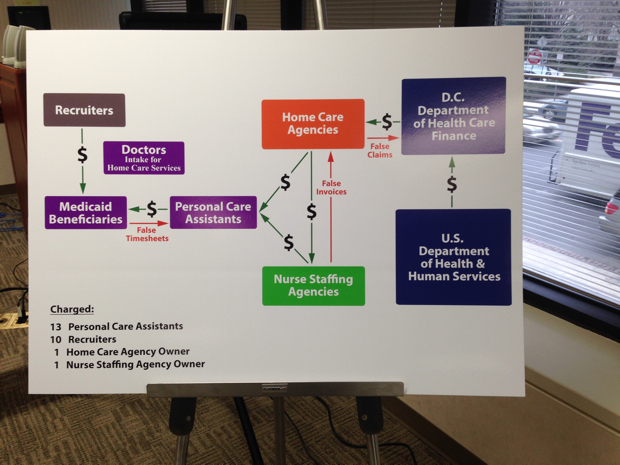 "Their scheme was not overly complex," Machen said. "But they had it down to a science."
Officials said they are still tallying how much money the defendants allegedly ripped off, but one defendant, Florence Bikundi, ran three home-care agencies that collectively received more than $75 million between July 2007 and the present. Bikundi has also had her nursing license revoked by the District, Virginia, and South Carolina, her indictment reads. Each time, Machen said, Bikundi was able to get back into the Medicaid system by using different last names.
Law-enforcement agents working on the case seized 49 bank accounts, six cars, and Bikundi's posh home in Bowie, Maryland.
Machen added that the charges filed today do not have any connection to Chartered Health Plan, DC's former Medicaid contractor run by businessman Jeffrey Thompson, who is being investigated on allegations that he funded a "shadow campaign" in the 2010 mayoral on behalf of Vince Gray.