Mardi Gras goes down on Tuesday, March 4, but with all the festivities to choose from you should start planning now. Restaurants and bars are dishing up New Orleans-style eats, Sazeracs, Abita, and more, and a number of spots bake king cakes to go. Don't want to wait until next week to party? Several spots have already started celebrations.
901 New York Ave., NW
Go all out on Tuesday with an all-you-can-eat-and-drink celebration at one of DC's New Orleans-style institutions ($100 per person). Po' boys, a raw bar, and live music highlight this private party.
When: Tuesday, March 4, 6 to 10
2519 Pennsylvania Ave., NW
It's an all-day extravaganza on Tuesday with acoustic jug bands (not to mention tasty po' boys) during lunch and an all-you-can-eat spread from 5 to 9 for $25. Live music and drink specials go all night.
When: Tuesday, March 4, open to close
1515 N. Courthouse Rd.
Join chef David Guas's third annual Arlington block party with Bourbon Street-inspired drinks, street food, and plenty of Abita. Tickets for food and drinks are sold individually, starting at $15. If you need a king cake, Guas bakes up a fine one with 48 hours' notice.
When: Tuesday, March 4, from 5 to 10.
1001 Pennsylvania Ave., NW
Head to Michel Richard's seventh annual Mardi Gras party for turtle soup, crab fritters, Creole-style beef cheeks, classic cocktails, Abita, live jazz, and more. Special menu items are priced individually.
When: Tuesday, March 4, 5 to 10:30; live jazz 7 to 10:30
777 I St., NW
Take your pick of carnival activities: Show up on Friday for a samba performance by the Leblon Samba Girls from 6 to 7, or sip $7 Chicha Rosada cocktails Sunday and Monday. Representatives from La Diablada Pisco will show off traditional oversize carnival masks all night with the cocktails.
When: Through Monday, March 3
2121 14th St., NW
Celebrate early at a Mardi Gras happy hour with $4 Abitas, $7 mini muffulettas, free king cake, and more.
When: Tuesday, March 4
3115 14th St., NW
Classic New Orleans cocktails are served all day through Tuesday, and you'll find specials during brunch, lunch, and dinner such as tasty-sounding cornmeal-crusted local catfish with dirty rice and cracklings.
When: Through Tuesday, March 4, open to close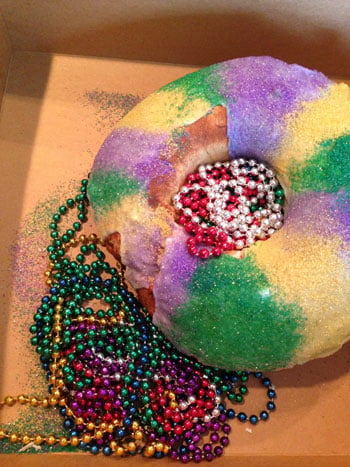 2651 Connecticut Ave., NW
Guests can either chow down on crustaceans in the annual crawfish-eating contest or sit back and watch the competition with a free beer or soda for every pound of crawfish ordered. The Bud Light girls will stop from 6 to 8 to console the losers.
When: Tuesday, March 4, open to close
405 Eighth St., NW
Skip the beads and masks and dive right into individual-size king cakes ($4.50 per cake). You don't have to wait until Tuesday; the confections are already on sale.
When: Through Tuesday, March 4
1813 Columbia Rd., NW
Shrimp remoulade, jambalaya, and "faux" turtle soup are among the Mardi Gras specials on chef Cedric Maupillier's three-course menu ($35 per person). Live music and classic New Orleans cocktails round out the festivities.
When: Tuesday, March 4, 5:30 to 10:30
Pearl Dive Oyster Palace / Black Jack
1612 14th St., NW
Pearl Dive pastry chef Carri-Anne Hamer bakes king cakes for the day's festivities ($30, pick up on Monday or Tuesday). Feel more like drinks? Black Jack plans an Abita tap takeover and specialty cocktails.
When: Through Tuesday, March 4
1370 Park Rd., NW
Celebrate vegan-style with beignets (four for $3.75) and special-order king cakes ($12.50). The made-to order beignets are available March 4 and 5, and you can pick up the king cakes March 1 through 4.
When: Saturday, March 1, through Tuesday, March 4