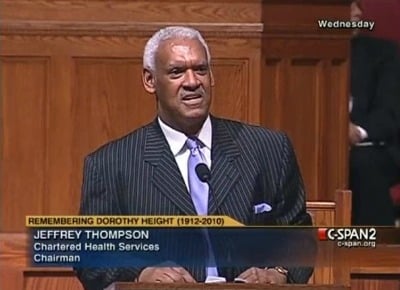 A central figure in the investigation into Mayor Vince Gray's 2010 campaign is expected to agree to a plea deal as soon as today, putting new attention on an ethical scandal that the mayor has tried to avoid while running for re-election.
Businessman and longtime mega-donor Jeffrey Thompson is in the "final stages" of making a deal with federal proseuctors, the Washington Post and NBC4 report, potentially closing the loop on a three-year investigation into an alleged "shadow campaign" waged on Gray's behalf in 2010 that spent $653,000 in unreported funds to elect the mayor. Thompson is believed to be the source of that money.
Over the past three years, four of Gray's 2010 campaign advisers and friends have pleaded guilty to their roles in the scheme, including longtime Gray confidante Vernon Hawkins, who confessed to lying to federal officials about an attempt to divert the FBI's investigation into the 2010 effort. Other guilty pleas collected over the course of the investigation have also revealed that Thompson allegedly funneled illegal funds to Hillary Clinton's 2008 presidential campaign.
Meanwhile, US Attorney Ron Machen has said that his investigation will continue regardless of the impending election.
"Our decision is based on the facts and whether a person violated criminal law," Machen said in November.
Gray has repeatedly denied any knowledge of the shadow campaign, but he noted the headaches it has caused for himself and the city as he started his re-election effort, kicking off his 2014 campaign announcement with an apology. "I apologize to you for the pain that my campaign caused," he said. "I ask for your forgiveness."
But voters in next month's Democratic primary—early voting for which begins in nine days—might not be as forgiving as the mayor hopes. Although Gray continues to lead polls of likely voters, with a 28 percent plurality in a Marist College survey last week, 70 percent said in the same poll they say they believe Gray acted either unethically or illegally in 2010.