Monica Kuebler is the owner and holistic wellness director of the Northern Virginia-based Whole Health Elements. She's also a holistic health practitioner, certified personal trainer, corrective exercise specialist, certified massage therapist, functional diagnostic nutrition practitioner, certified metabolism typing adviser, and raw-food educator.
With a résumé like that, it's clear Kuebler needs plenty of healthy fuel to get through the day. She sticks with "organic, nutrient-dense traditional foods" and follows the principles of the Paleo diet—no gluten, grains, legumes, dairy, soy, or sugar.
"I strongly believe and educate that every person has a different type of metabolism, and because of that fact, one diet is not right for every person," she says.
Read on to find out what diet Kuebler has found works for her in her one-day food diary.
Morning drink: "My day begins with a glass of room-temperature water with half a teaspoon of sea salt, one teaspoon of Bragg's raw apple cider vinegar, and one drop of tangerine or lemon essential oil. This concoction perks up my taste buds and helps support my digestion, detoxification, and adrenal health for the day."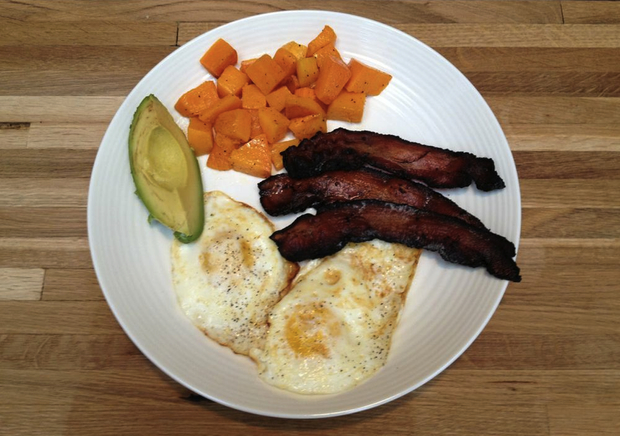 Breakfast: "I make breakfast for my husband and me most mornings. This morning's meal consisted of green tea with three drops of liquid stevia extract, butternut squash roasted in coconut oil, two local pastured eggs that were fried (yes, fried) in grass-fed butter, and a quarter of an avocado. To top it off I included some uncured farm-fresh pork bacon. Yum!"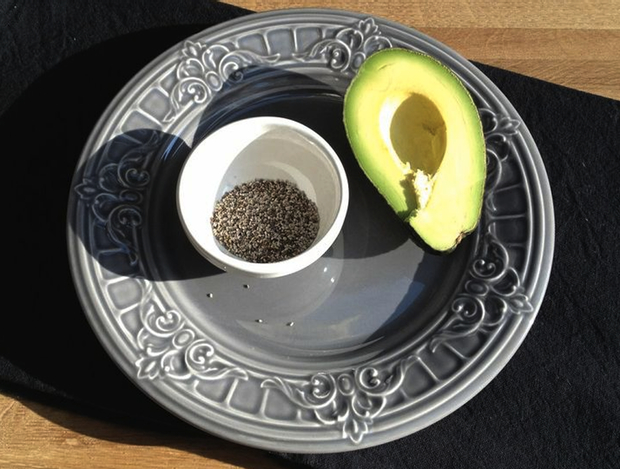 Mid-morning snack: "I needed a little something to get me through my last personal training appointment before lunch today, so I had one tablespoon of chia seeds and half of the avocado from breakfast."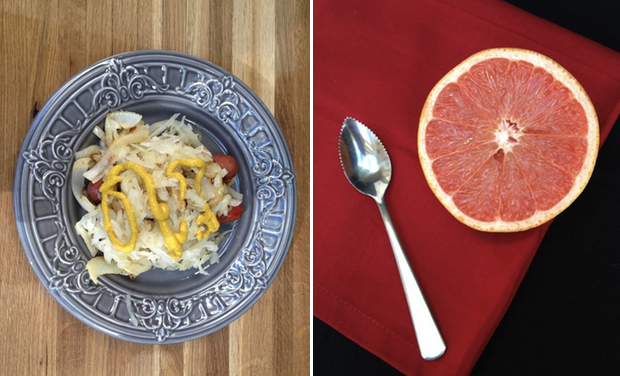 Lunch: "Lunch is often what is left over from the previous night's dinner, but today I had two Applegate Great Organic uncured grass-fed-beef hot dogs with grilled onions, a heap of fresh sauerkraut, and mustard. After the dogs I had a ruby-red grapefruit, which certainly seems like a weird combination, but it was the perfect bit of sweetness to end the meal with."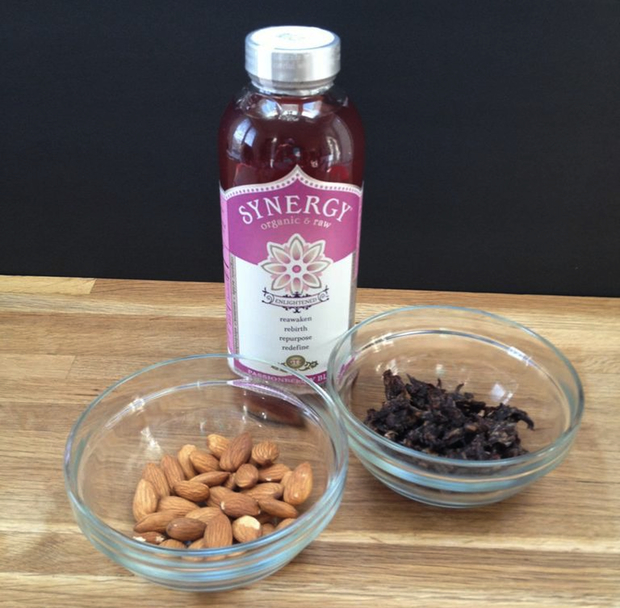 Mid-afternoon snack: "Around 4 I was ready for a nutrient boost to prepare for my evening clients. I had a half of a bottle of kombucha, raw almonds, and grass-fed-beef jerky, which is much cheaper and tastier to make myself."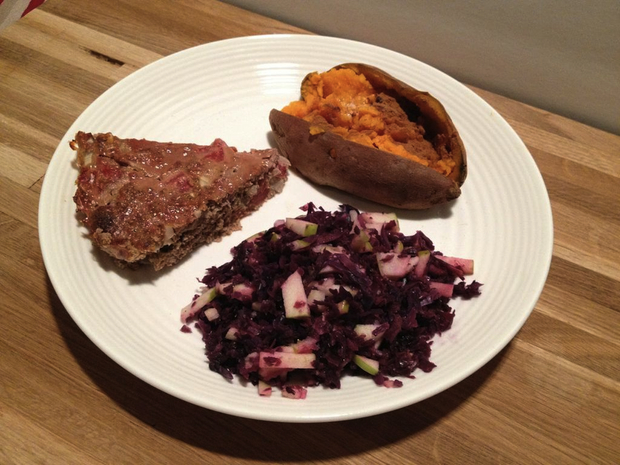 Dinner: "As I was preparing dinner I sipped on a cup of homemade chicken-bone broth. Dinner itself consisted of bison meatza (meatloaf shaped like a slice of pizza) and steamed red cabbage with diced Granny smith apples sautéed in bacon fat from this morning's breakfast. To round it out I had a sweet potato perfectly cooked in the slow cooker with cinnamon and grass-fed butter."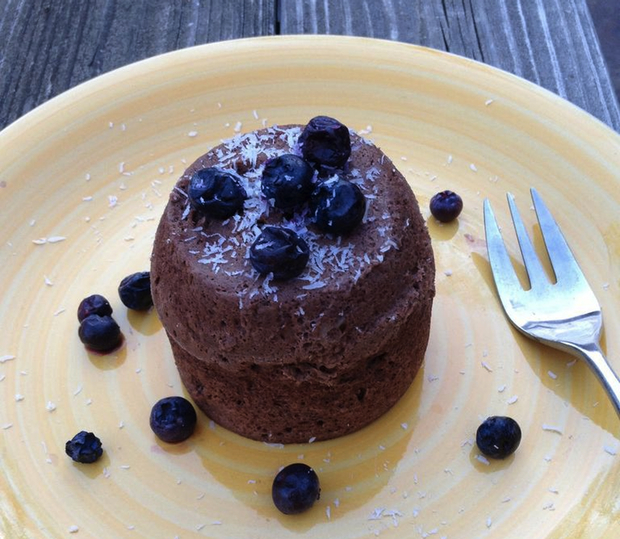 Dessert: "This particular day of the week is usually my busiest, where I expend a lot of energy, so I eat more. After dinner I made a mug cake consisting of one pastured egg, a banana, and one and a half tablespoons of cocoa powder. After it cooked I flipped it onto a plate and topped it with a few blueberries and a sprinkle of coconut to create a lovely little plate of deliciousness."
Disclaimer: The Food Diaries series is intended to be inspirational and is not an endorsement of each individual's diet.
Are you a local health, fitness, or nutrition expert with a love of food? E-mail wellbeing@washingtonian.com to find out how you could be featured in our series.