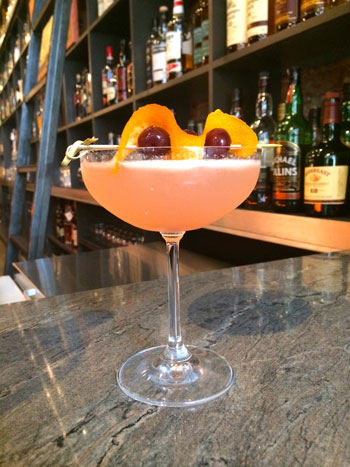 Looking for a St. Patrick's Day sip beyond Jameson shots? Start exploring the greater world of Irish whiskey, which just like American bourbon comes in an array of styles, flavors, and price points. We asked Jack Rose owner and brown-liquor guru Bill Thomas to share his personal recommendations, from affordable sipping whiskeys to rarer, more celebratory drams. You'll find bottle recommendations for celebrating at home as well as several by-the-glass pours should you explore the bar's deep whiskey collection.
For cocktail fans, Jack Rose barkeep Trevor Frye devised a special concoction with lightly sweet Bushmills Irish Honey, available at most liquor stores. The Leap-Day Libation, as Frye calls it, reflects the flavors of the Irish coast: earthy whiskey, citrus, and a touch of salt to mimic the ocean air.
TIPPLING AT HOME
Everyday sipping whiskey: Jameson Black Barrel (around $35 per bottle)
"It's got a darker, richer, earthier character to it after being aged in flame-charred bourbon barrels," says Thomas. "It's slightly more complex than your typical Jameson."
Celebratory sips: Redbreast 12 Year (around $55 to $60 per bottle)
"Redbreast is one of the few single-malt pot-still Irish whiskeys on the market," says Thomas. "This one is constantly winning accolades. I like the cask-strength version better, but this one is great and accessible."
Irish whiskey for bourbon fans: Knappogue Castle 14-Year (around $60 per bottle)
"This Knappogue is 14 years old, with a nice, bigger mouthfeel and a cereal malty quality," says Thomas. "It's aged in both bourbon and sherry casks."
SIPPING IN THE BAR
Everyday sipping whiskey: Knappogue Castle 1995 ($19 for two ounces)
"It's a very pretty sipping whiskey," says Thomas, pointing out that it's also somewhat affordable for a rare find. "Once these 1995 vintage bottles are gone, they're gone forever. You might be able to find a couple straggling bottles in liquor stores around town, but it'll never be available again."
Celebratory sips: Midleton Barry Crockett Legacy ($49 for two ounces)
"This special-edition whiskey has been aged for a minimum of 22 years in both bourbon and new American oak barrels" says Thomas. "Only 2,500 bottles were released—it came out in 2010 and was named for the master distiller—and because of that, it's pretty pricey."
For the wine lover: Tyrconnell Irish single-malt whiskeys finished in either Port, Sherry, or Madeira casks (each $18 for two ounces)
"When branching out to whiskey, wine lovers tend to go for whiskeys aged in wine barrels," says Thomas. "They impart familiar flavors in each whiskey, such as a sweeter taste from a Port cask. Tyrconnell first ages its whiskeys in seasoned oak for ten years, and then finishes them in each of the different wine casks for six to eight months."
For the Scotch lover: Connemara cask-strength peated ($22 for two ounces)
"Connemara, distilled by Cooley, makes an Irish whiskey that's heavily peated, something you rarely see," says Thomas. "In addition to the natural peat found in the soil, Connemara uses peat smoke to add a heavier flavor, which appeals to Scotch lovers. I love my whiskey at cask strength, which means it goes from barrel to bottle without being diluted or chill-filtered, so this whiskey is 58.9 ABV [alcohol by volume]."
Not ready to sip whiskey straight? Try this simple yet impressive cocktail for the holiday.
The Leap-Day Libation
Makes 1 drink
Ingredients:
¾ ounce lemongrass-cinnamon syrup (see recipe below)
1½ ounces Bushmills Irish Honey
½ ounce lemon juice
2 dashes Regan's orange bitters
Pinch of sea salt
Combine all ingredients in a shaker with ice and shake. Double-strain into a chilled coupe. Garnish with an orange peel and cherries.
Lemongrass-Cinnamon Syrup
4 stalks lemongrass
6 cinnamon sticks
1 cup water
1 cup sugar
Heat sugar and water in a saucepan over medium heat. Steep the lemongrass and cinnamon sticks for approximately 30 minutes. Strain and chill. The syrup can be made up to a week in advance.